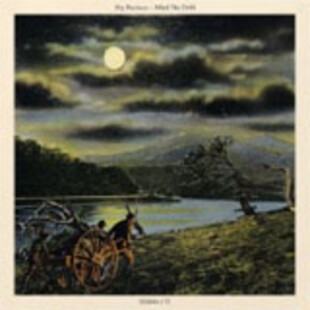 Finally, after what seemed like far longer than only 2 years, Coady and Jared tumble back into our lives with long-time collaborator Toshi Kasai permanently included on guitar for this, their third album. Boasting artwork that easily trounces their first two brilliant efforts, Mind The Drift comes in an envelope-style sleeve with an amusing handwritten note from one 'Donald' on the reverse, suggesting that the band's songs of struggle discovered on his travels have left him pining for his erstwhile lover more than usual. Inside, the gatefold spread depicts the Big Businessmen cleverly inserted into various American postcard scenes. It's artwork like this that makes buying physical CDs all the more worthwhile than downloads.
Thankfully, the music more than accomodates the grandeur of its packaging. Opening with the tubthumping 'Found Art', these 8 tracks take the swampy, sweeping vision of 2007's Here Come The Waterworks and elevate it to new and eclectic heights. 'Gold and Final' takes some serious beating when it comes to hummability, 'Cats, Mice' pushes Kasai's decorative widdling to the fore while 'I Got It Online' is a powerhouse of riffing bolstered by thundering cries of "Can't even walk down the street/Too many punks, too many goths, too many nerds...". Although Kasai's guitar does sound decidedly thin and almost irritatingly unnecessary in places, it's a welcome extra dimension to Jared Warren's grinding fuzz-bass and trademark bear-with-a-wasp-up-its-arse bellow, underpinned and often overshadowed by Coady Willis's ludicrously brilliant drumming.
If you pretend the Melvins never existed, let alone invited these two to join their ranks, you could argue that Big Business are the most original and fantastic rock band in decades. As it is, the spirit of Buzz and Dale hangs heavy in the air, particularly as Mind The Drift is a considerably slower and sludgier batch of songs next to their debut Head For The Shallow.
So, Melvins aside, there really is no-one else out there like Big Biz and this new arrival stands as a fine display of what they are and will be capable of, if not quite as rewardingly, deafeningly heavy as ...Waterworks. And for that, I raise my glass to them.