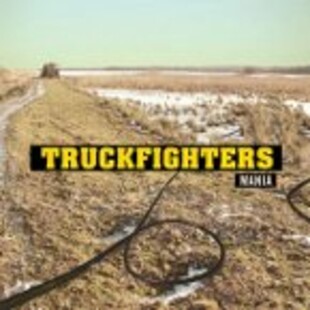 Truckfighters are just what's needed sometimes, proper honest heavy fuzz rock. They came along the last time with a record that was refreshing, taking influence from desert rock while still keeping their own flavour. This time the band have developed that sound further. Mania starts off slow with 'last curfew' but once the riff kicks in you know this albums going to be a good ride.
It's quite a bold move to put an almost eight minute long song as the first track on an album but it's catchy, heavy and filled with confidence. I don't know what they put in the water over in Sweden but it seems to be full of all the vitamins and minerals needed to write a really solid rock hook and that's what this album delivers track by track. Its full of heavy old Fu Manchu style fuzz but there's all sorts of little melodies going on in the background that take a few listens to fully appreciate and really lift this out above the packs of Swedish desert clone bands. The production is great on this too, a really thick wall of fuzz with acoustics mixed in here and there.
Right in the middle of this album there's a track called 'Majestic' that begins with a lot of spacey echoes and some guitar parts that would almost fit in with the Isis crowd until a hulking heavy stoner riff takes over. Clocking in at over 13 minutes its another bold move but one that works just fine, especially when the chorus kicks in and reminds you just how good this band are at writing hooks.
That's twice that hooks have been mentioned here, sorry about that but really that's what makes this album, it's quite an infectious listen that requires a car, a loud stereo and a long drive with the sun shining to fully appreciate.
Go get it in time for the summer and remind yourself why you liked all those low fuzzy bands in the first place.