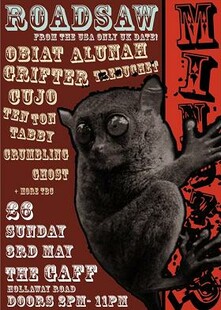 If two and a half bottles of wine the night before and a 7am bed-time is a good excuse to miss some fine Stoner/Doom bands, then I had a good excuse to miss a lot of Mindzap's first All-Dayer. But it isn't - I vow not make the same mistake twice. When I did manage to get there, the grooves coming through the outer wall of The Gaff were impressive, courtesy of Grifter. Their name might remind one of the bike design from the 80s, but their riffs are firmly rooted a few years further back. In this case, a good place to be.
Alunah I have no clue about, as the beer I had drunk during Grifter met up with the wine from the night before and things got hazy for a while, which eventually turned out to be a good method for enjoying Obiat. Frontman Laz dominates the stage, and his mad necromancer act makes the potentially-cheesy bat and skeleton decorations of the venue seem eerie. The powerful storm that the rest of the band kick up (especially formidable drummer Neil) is proof that the spells conjured by Laz really do work. If I was forced to categorise it as either 'Doom' or 'Stoner', I'd call it 'Doom'. However, unlike some of the bands in that genre, it's never limited to the depressing or oppressive, though. This is surely due to the subtle (no, really!) psychedelic element, which the band manage to maintain throughout, keeping heads a-banging and hips gyrating. Mysterious and satisfying stuff that doesn't skimp on the heaviness nor the psychedelic. Sometimes a hard line to tread. I know I'm late coming to the party having only discovered Obiat, but at least it wasn't a case of even more wine and still missing out to this day. Unlike Laz and his boys, that would have been genuinely mad.
Roadsaw are a lighter proposition, but their whisky stoner gets the crowd going well enough. No cover of 'When The Levee Breaks' (unless they played it at lightspeed when I was in the toilet), but such things would matter little to the crowd tonight. The booze has definitely kicked-in for everyone else too, and the night ends on a high note. Well, given the down-tuned genre, that's technically a low note, but smiles abound. Roadsaw definitely buzzed London. A good one then, more from Mindzap please!