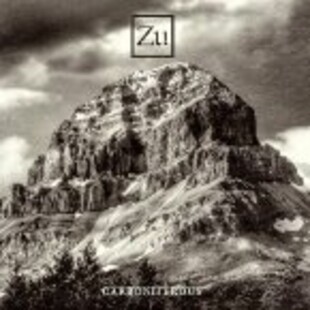 The less said about Mike Patton the better, I can't stand the man, but picking up jazz/experimentalists Zu for his Ipecac imprint is just pure genius.
A band so rooted in the freedom that music can provide, this is surprisingly catchy stuff. A three piece made up of bass, drums and saxophone only, the racket these chaps make is to be envied. Starting with a fast-paced and squealing track in the shape of 'Ostia', Zu go straight for full on freak-out mode. The saxophone takes centre stage to provide horrid squalls and honks as bassist and drummer seem to race each other to the other end of the studio in terms of sheer playing.
Evoking Lightning Bolt as an obvious reference point, they smash that comparison easily, but the same all-out war on the ear is what this band are all about. The mechanic nature of their music is shown up in second excretion 'Chtonian' as a sludge riff fights in a gloopy mess with the saxophone's playful delivery, a bass sound so ragged and mean, live I imagine it takes your head off.
Flopping around a sheer baritone sound from the saxophone comes standout track 'Carbon' lumbering through what is a groove-ridden jaunt.
Featuring Mr Guest Appearance himself, Mike Patton, 'Soulympics' features only his vocals cloaked in effects and add to the piece in a tasteful way, his gibbering and guttural groans thankfully not taking anything away from the fantastic and frenetic offerings that Zu conjour up.
A real treat for the ears if you don't hate the completely Marmite instrument that is the saxophone and it's similarly unwieldy bedfellows jazz and noise.
Demented and unhinged in the best possible way.