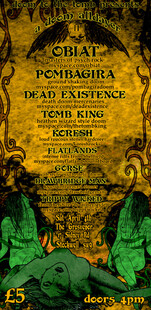 It's a beautiful sunny day out birds are singing in the sky, perfect day to go and stand in a dark room in Stockwell and see the cream of the crop of British Doom and Stoner bands. Obviously!
So the day starts around 5pm With Trippy Wicked and the Cosmic Children of the Knight. They're a nice opening band for today. Nice sludge blues with terrific vocals and sludgey blues riffs. It's steady and warms up the assembling folks for a day of heavy riffage. Also Props to them for doing a nice Seasick Steve cover version.
Drawbridge Man sadly had to pull out, but next up are Gorse - a veritable super group of EX Hey Colossus, Yeast, Mother trucker and the bassist's band, who's name escapes me, but they where good too. James' vocals have come on a long way since Yeast and his stint in Hey Colossus has really honed his craft. From this bands previous line as Tyre this is also a big step forward. With heavy driving riffs, solid drum lines and rocking bass melodies, they're probably the most upbeat band who will play today. Despite a few technical problems with James' pedal the only real issue I would have would be James playing a hand bell out of time on the last song. But this band are great and really deserve credit for a well put together set of songs.
Next up, making it barely in time to play, is Sheffield's finest Flatlands, who are playing some new material and stuff off the new record Black Sluice. This band have really developed and moved their sound forward over the years and the new material is sounding way more eerie. With an almost gothic edge to their sound, with solid dynamic builds, rises and falls. The muttered vocals from Mike proving an ominous backing to quiet chord progressions. I genuinely think that if you're after thoughtful, solidly played, dynamic metal based music, Flatlands are the best band in the for this in the UK currently. Fair to say its a treat today to see them play.
Next up the Circus hits town! Yes its Koresh! Already several sheets to the wind, it's gonna be a good 'un. Like Bumsnogger (rip) before them, this band play better when fueled with beer (although later I'm eternally scared after seeing most of the members junk). But tonight's show is fantastic, lets not forget its 90% how you look and 10% of how you sound and these boys look amazing! Rock star posing, two crazied front men and an angry Geordie(?) shouting come on! No, this does them a discredit; despite the drunken antics they have some really solid riffs and great sludge sensibilities. They not only entertain, but play some fantastic, messy feedback driven slabs of riffage. Donny and Paul's interchanging vocal delivery is a really nice stand out point for this band for me.
And introducing Tomb King. I find out later this is their first ever show, which actually surprises me as you really can't tell. Consisting of a bass player with so much fuzz on his bass it sounds filthy, a singer who part wails part roars out his lines and the scariest looking drummer (who is solid at his instruments). They lay out some nice dirty sludge riffs free of guitar noodling and all the better for it. The front man looks like a man possessed at points and the potential of this young band is very evident, hopefully with more shows under their belts and some more confidence this band will be ones to watch in the remains of 2009.
Dead existence; I've seen these chaps a few weeks earlier with Rameses and I feel they are better tonight than they where at that show. I think the vocalist especially is very strong. But something about them still hasn't struck a chord with me. They're all very technically gifted and probably the tightest band of the day, however I think my problem is they put too much into their songs and never seem to rest on one thing. The jumping about and never sticking on one thing for long enough troubles me. But I like them more the second viewing and think I'd like to see them again soon as I think they will really grow on me.
Pete Giles and the Pombagira... OK it's just Pombagira, but main man Pete is not only responsible for the silly fast Flyblown, but also organising today's show and that's awesome, well done Pete. With the drums being hit with some real aggressive power (she maybe a small lady but hell she makes so much noise on that kit, especially considering Pete is playing through what looks like a wall of amps). With Pete's guitar sounding like an aeroplane taking off tunes to deadly doom. With some more dynamic today and what appears to be shorter songs, although I'm told not, just enjoying it so much made it seem shorter. This is doom at its best; heavy, slow, ominous and progressive. Providing another highlight of an already great day of bands.
Finally it's the turn of psych overlords Obiat. Hailing from Reading via Spain among other places. Laz is like a twisted shaman leading the riff of his riff wizards. Steady, heavy riffs and their vocals, sometimes wails that sound like feedback and sometimes sung melodies guiding the metal riffs to the top of the mountain. A really nice end band that send me back into the night feeling like I'm riding a unicorn to Stockwell station. They drift and glide, with nice progress slabs of stoner rock.
Its an amazing day and the bands all ruled and top marks to Pete for organising the show and the Grovesnor for feeding Koresh with way too much booze. A great all day best way to spend my Saturday.