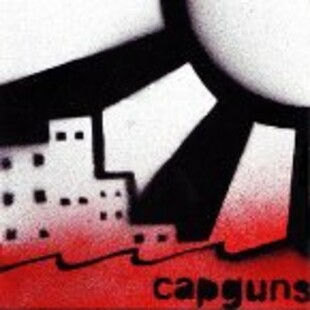 Capguns are a post metal/shoegaze band from North Wales, whilst maintaining they do something original in their press release, the honest truth about this release is it is nothing new.
But despair not fair reader! Persevere with this review as well as the record and bountiful wonders may you gain.
With use of every band's favourite pedal, the delay, Capguns open their exquisitely-package release (lovely artwork and insert) with a marching band-style regale before exploding into a Cult Of Luna-inspired metallic treat. Harsh vocals collide with a drummer intent on blast-like flourishes makes this band stand out from the off.
The four tracks on offer here span a genre-hallmarked forty minutes, but it never becomes dull, did I mention the drummer? He is rather good, inserting the odd offbeat time signature into the mix, complementing the TWO bassists this band have, a rarity indeed.
Track three stands out with orchestral strings featuring in the calm-before-the-storm moments before a raging riff-fest ensues, yes it is predictable, but by golly you'll be playing this one again if shoegaze and varied experimentation is your bag. I've not even started on the female vocals, for the record, they complement the whole package perfectly, making this band one to look out for, they have played Sheffield several times, if they do again, or anywhere near you, investigate.