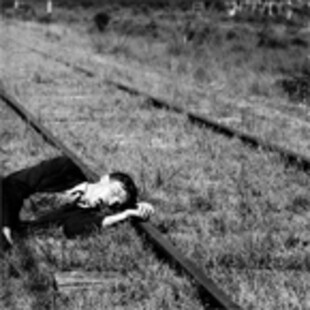 Moloch have been praised much on these pages, their stinking brand of New Orleans inspired sludge has caught the right aesthetics and nuances of the genre that so many of these bands miss to make them one of the UK's best hopes that sludge is very much alive.
On the heels of a well-received demo, the band have seen fit to release this four-track EP on us with more of the same.
But this time around the vocals are more scratched-blackboard and bad beer-soaked than before, the drums clatter with a honed, wild-eyed fervor and the guitar and bass sound even more unpleasant.
Slow and heavy is the order of the day, with some mid-paced freak-outs thrown in for good measure, the 12" version I'm listening to looks great too, the dead body and stolen typewriter theme continued from the demo looks even better on this format (although a CD version is also available).
Songs on offer here are satisfyingly unpleasant and the live-sounding production does them justice, the excellent Stuck On A Name studios capturing the filth in songs such as "Black Water" and "Repulsion" which threaten to spill out of the speakers with tar-black mess.
Fans of the band will relish the chance to hear these new tracks, especially on the excellently-packaged vinyl version but those who have even a passing interest in things feedback-soaked should invest some time getting to know this particular demon.