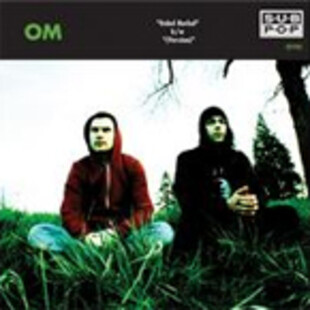 Gebel Barkal is Om's first release following the departure of original drummer Chris Haikus. A limited release for Sub Pop's subscription only singles club, this has already become a highly sought after piece of wax. It also marks the first appearance of new sticksman Emil Amos, who currently plays in Grails.
Many voiced doubts that Om would sound right without Haikus behind the kit, but I suspect that even the most die hard of Om fans will struggle to find fault with the two new tracks offered up here. I can happily confirm that Emil is very much up to the job, effortlessly providing a strong rhythmic backbone that's noticeably more intricate and flashy than Haikus, whilst carefully maintaining the loose jazzy feel that's become such a quintessential ingredient of Om's sound. If anything, I feel Amos brings a much needed injection of energy to the band's music.
Gebel Barkal is a short and succinct offering by Om's standards, each track clocking in at just under 5 minutes, as dictated by the length of a standard 7". Side A offers up a slow burning piece, opening with a clean bass line that meanders back and forth, tilting its hat to eastern tonalities and scales as it goes. This is familiar territory for Om, building a slow cyclical pattern that explodes into a fuzzed out bass crescendo as the song peeks and concludes. It's a satisfying cut but you can't but help feel that the track has been somewhat curtailed to fit the time constraints of the 7" format. I suspect we may see this track resurrected for a long form outing later on down the line. Regardless, this is a well realised piece that has a distinct beginning and end, avoiding one of my major gripes with Pilgrimage; the dreaded fade out as a means of ending a song.
The B side presents an alternate version of the same song but with a number of fascinating additions. Small as they are, these minor modifications may represent the biggest step forward in Om's sound for quite some time. The use of heavy reverb and delay on the drums lends a dubbed out feel to the piece, but it's not until the track begins to climax that things really take an unexpected turn. Deviating from the stringent 'less is more' dictum, Om add extra layers of instrumentation for the first time in their career, introducing a haunting eastern melody that intertwines gracefully with Al's bass parts. As a result the track packs a dynamic punch and fullness that I've rarely heard in their compositions before. It's a glorious little deviation, and perhaps a tantalising glimpse of things to come. I for one applaud this new sense of exploration and hope to see them continue to expand on it.
Fingers crossed for the next full length.