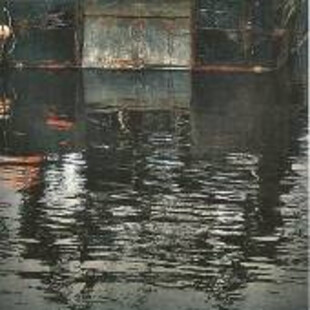 5ive have been away for far too long, fact. So when this album came out after around four years of silence since the 'Versus' EP and subsequent re-releases, excitement rained like gumdrops from the sky. These are meaty, ambient gumdrops that send anyone who eats them into paroxysms of joy.
Execrable metaphors aside, the original ambient, riff and layers of drone two-piece are back to show the world how to build a truly mesmerising wall of sound that fixes you to the spot.
Whereas releases like their self-titled debut or the one-song juggernaut that was 'The Haemophiliac Dream' sound meandering and lucid, 'Hesperus' sounds like focused bursts of straight-to-the-point 'this is what we can do' nailbombs.
From opener and possibly the most raging 5ive track yet 'Gulls' you can tell that the years away have taught Ben and Charlie that a hammer blow to the back of the head is the best tactic when it comes to getting people to listen. A lesson in dynamics and pinpoint accuracy, the waves of sound roll like 50ft waves.
The usual relentless 5ive attack we know comes to fruition on next track 'Big Sea' the stripped down song titles reflect the no-nonsense approach of the whole album, the artwork, a stark photograph of the back of a large metal boat, and the reflective water surface shining back at you also represent the music on offer inside.
Guitar-pedal exercise that sounds unhinged and manic makes up the brief and fantastic crescendo of 'Kettle Cove' while the similarly brief, but more quiet and eastern-tinged 'Heel' while still retaining focus before we are treated to the gargantuan 'Polar 78' which could have been lifted from the debut, we are talking classic 5ive here.
And so to the closing shots of 'News I' and 'News II' which make up more than twenty minutes of this incredible return by a band sorely missed. With a latter-day Isis feel to some of the more melodic sections, 'News I' soon reveals itself to be a confident swagger with a rich eastern scale at its heart and bursts into a crescendo it seems only 5ive can pull off these days, one that is euphoric, with its multiple guitar tracks feeling like a descending mist, cracking stuff.
Closer and sister track 'News II' takes the spaceship landing racket created in the first part and grants it a re-evaluation that means a psychedelic workout in modern terms, an nigh-on perfect contender for album of the year.