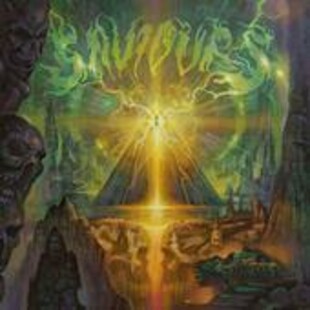 Galloping thrash and NWOBHM rhythms, twin-lead guitaring and bearded blokes shouting seems to be the order of the day again in the world of stoner/doom/sludge/whatever. So, do we need another Mastodon, Baroness, The Sword or High On Fire? Do Saviours bring anything new to the table? They're knocking on the door, but will you let them in? In a nutshell, yes, with their twist on the aforementioned bands, Saviours come across like Thin Lizzy with a dash of NWOBHM, but faster and more pissed off.
This being their second release, Saviours are a tight unit, heads down and ploughing the familiar rhythms from the off with the aptly named 'Raging Embers', this is an album ticking all the right boxes, head-nodding, foot-tapping and "I wish I wrote that riff" moments are aplenty. Vocalist, Austin Barber (sounds like a wrestling name to me) seems to have a register of a few notes, but it does the job in a Lemmy style. There's even a smattering of epic prog moments, with some crazy time changes thrown in to keep you on your toes. I'm not sure if it's intentional or not, but I must applaud the ending to 'Narcotic Sea' and its complete lift of the riff from the 70s classic 'Carry On My Wayward Son' by Kansas.
All in all, thirty minutes of solid rock, there's nothing groundbreaking here, but Saviours do what they do, and they do it well, marrying classic metal with a hardcore approach.