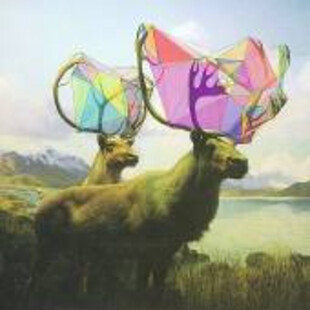 Pyramids are a new act on the Hydra Head roster, and a welcome return to form for the label, alongside recent endeavours by Kayo Dot and Torche.
The album is a 2xCD, with the second being remixes by various people including James Plotkin, Toby Driver and Campbell Kneale to name a few. Make of that what you will - I will be focusing on the actual album that comprises the first disc.
The album is an odd concoction. Imagine a very sparse Mare, without the heavy bits, and a love of ambient yet fairly noisy electronica and noise.
At times the record can be stunningly beautiful such as the excellent opening duo of 'Sleds' and 'Igloo'. However, the album is far from consistent and this is ultimately frustrating for the listener, even if the tracks that detract from any cohesiveness remain well written and enjoyable. Final track '1,2,3' for instance is great but features distorted screaming at the end which will make any listener scratch their head after the half an hour of music gone before.
However, I can put up with great tracks that don't mesh together. The unfortunate thing for Pyramids is that the album looses its way a little in the mid section of the effort, with me barely noticing the tracks changing on different listens. There was nothing particularly wrong with them, but on the other hand there isn't anything that particularly stands out.
There's something great going on here. It's just not been fully realized. Their second opus could be something damn special though. However, this self-titled comes recommended either way. It's a good listen.