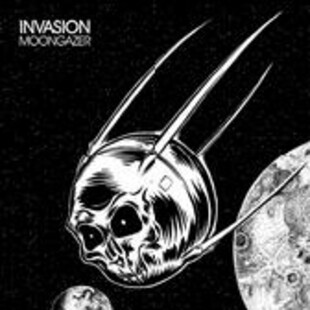 I've given up trying to figure out Invasion, and how they've somehow managed to fuse a soul singer, powerhouse drumming, stoner/thrash riffage, no bass, an infatuation with wizards, a smattering of cosmic effects and come up with something sounding so unique. Whatever it is, the whole is greater than the sum of its bizarre mix of parts.
This four track slab of vinyl, complete with CD for those who shun the mighty turntable, is a short, sharp, shock of musical bombardment. The title track, 'Moongazer', kicks things off with a minute and half of groove, before a crescendo builds up to a cosmic climax of feedback and what sounds like some sub-bass frequencies rattling my speakers across the desk. Who needs one of those things with four strings?
With only a riff or two per song, and each track weighing in around 90 seconds, there's enough swagger laid down by guitarist Marek and drummer Zel to keep it sounding fresh, and providing a solid base for vocalist Chan to work her magic with some energetic vocals.
A solid debut release, and worth checking out if you enjoy bands doing something a little different.