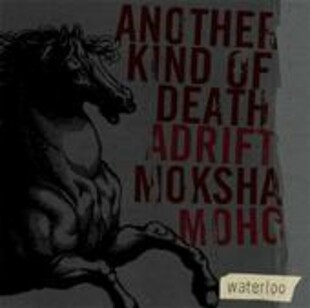 From Spain's Underhill Records comes 'Waterloo' an ambitious 4-way CD split. Underhill wasn't a label I knew until recently - they may have come to your attention around the same time due to them releasing the very fine latest offering from London tykes Hey Colossus.
However, this isn't a release where I'm stumped right from the off. I had heard and had been impressed by Adrift when I stumbled across them on the gloriousness of Myspace a while ago now, and the last two track are provided by esteemed doomsters Moho. Apart from Moho all the other bands contribute three tracks. It's Spanish a-go-go with this split.
Another Kind Of Death (who having just visited the label's website have just released their album) open up proceedings. Unfortunately my worst fears from reading the separate descriptions of the bands on the PR sheet provided prove well founded. Whilst I applaud the label's support of four of their native Spanish bands, the idea of a cohesive sounding release has somewhat been relegated to a distant thought in hindsight. AKOD fail to impress and don't fit into the overall sound of 'Waterloo' either. It all sounds a little trite and lacks conviction for the type of math metal they're trying to play.
Adrift are a real find. I can't really place them. Epic screamo-ish doomy stuff. Nice. Very fucking good infact. They have an upcoming album on Underhill too. Definitely worth a purchase I would say. Their tracks are quite lo-fi with a slightly rough around the edges mix. I kind of hope they keep this, as I think it's an asset rather than detracting from their sound. It's raw and grainy. Synchopated rhythms all over the place and with some nice work from all members of the band to create some non-formulaic and fabulously structured tracks. They aren't a band that jump out. But give their tracks time to breathe and you will be paid back well. A really promising band.
I was hoping that I'd get one new band out of the two 'unknowns' on this split. I get one! Hurrah! Moksha (I don't like the name...) are very good indeed. Crusty hardcore - no frills, no bullshit. Doesn't quite fit in with the feel of the split like AKOD, but I've decided to treat 'Waterloo' as more a menu of what Spain has to offer. As with any other countries scene, if you dig a little, you'll get some class.
Moho rap up proceedings with two tracks reminiscent of '20 Unas' in terms of style and recording. Both are good, but aren't quite the quality I was expecting. Still worth a listen though.
Overall, not a great split as such, but a great introduction to some cool Spanish bands. I would recommend searching out Moho, Adift and Moksha's full-lengths.