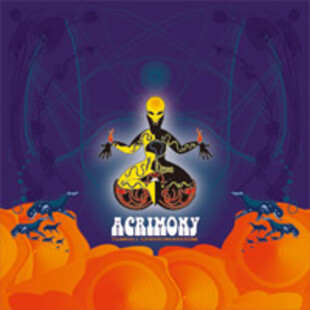 Acrimony were five lads from Wales, who listed their influences as things we all love, such as weed, cider, mushrooms and Black Sabbath. During their stint in the 90s, they were something of a cult act on the underground scene, yet still managed to turn mainstream heads by even getting as far as being nominated for a Best New Band gong at the Kerrang awards. The band split up, but members went on to be involved with other much loved underground bands such as Black Eye Riot, Helvis and Dukes Of Nothing. So, now we have a chance to rediscover their magic, courtesy of a re-release of their critically acclaimed album 'Tumuli Shroomaroom' on Leaf Hound Records, which has also been lavishly re-designed by Jimbob of Taint.
'Hymns To The Stone' crashes out of the speakers with an elephantine groove, and a hypnotic snake of a chorus, which gives way to a couple of minutes of glam-esque stomping, before ending with a few minutes of a slow grinding riff that builds into an almighty crescendo. All that in one song, on paper at least, should not work, but Acrimony seem to be able to drop riffs at ease that meld together, whether it be on the grooved-up 'Million Year Summer' with some fantastic guitar work between Stu O'Hara and Lee Davies, or on the wah-drenched doomy number 'Vy'. It's not all big riffs and distortion though, a lovely instrumental by the name of 'Turn The Page' features, and sounds like it wouldn't be out of place on a Led Zeppelin record.
The album has a very loose feel, and you can tell the songs were born out of hours of jamming, just to get that feel right, and it's been helped by a nice production job from Andy Sneap, with the guitars sounding particularly meaty. The lyrics on this album are also worth a mention, as Dorian Walter's keeps an atmosphere of psychedelia about the place with mentions of Celts, druids, dancing women, tribes, plenty of 'Yeahs' and best of all, this lyric: "I feel so fucking down. Give me some Valium.". Genius!
'The Bud Song' and 'Motherslug' continue the trend of stomping riffs and big grooves that you can just lose yourself in and forget where you are (substance abuse optional). 'Heavy Feather' starts out with a trippy instrumental section, with fluids leads trading off against each other, before building up into another one of those cosmic rhythms and taking you on a journey, that includes a blistering guitar solo. Finishing off with another epic called 'Firedance' complete with a mystical intro, and another slice of heavy guitars, epic jamming and passionate vocals, the album is drawn to a close at a touch over an hour's worth of music. I usually find my attention wandering with anything over 40 minutes these days, and it's always taken something special to keep me drawn in and lose track of time, and this album does that with gusto.
It's a shame that the band never went onto bigger things, as this album is testament to the talent they packed, and you'll always notice it's always dropped into those 'Top 20 Stoner Albums Ever' charts. Do yourself a favour and check it out if you've never heard them, as in my eyes, it's as essential as Kyuss to any Stoner fans record collection.