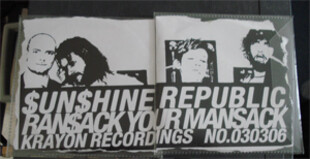 The development of Sunshine Republic over the years has been pretty immense starting out as a Pantera-esque metal band, through a thoughtful epic metal behemoth and to their split with Flatlands on Super fi a few years ago, this band has grown musically, and matured into a sound that is now more artistic and challenging. Riffs are replaced by massive sound structures and true desire to innovate.
First CD the nearly 20 minutes 'Ransack your Mansack', which is either the best title ever or the worst... I think it's brilliant. It's a massive monolith building like Godzilla ready to fight Mothra. This is probably my favourite thing I've heard from one of my favourite UK bands. The recording is also spot on capturing the real rawness of the $R sound with Dave's bellowing vocals underpinning the whole proceedings. Turn this song up loads it sounds like a space shuttle waiting to take off and gives you a taste of what these guys do live which at times has made entire building vibrate so much structural renovations have taken place after their exit.
'Beer Crew Round 1' starts in a different almost Zen way. With chimes of cymbals and off kilter drumming and chatting... this slowly builds into a beautiful wall of feedback and noise with clattering cymbals bashing away in the background. Imagine recording the sound of a very tall building slowly collapsing to the ground and you're only part of the way there...
Overall the effect of both CDs is the sound of a truly innovative band mastering their craft to its maximum effect.