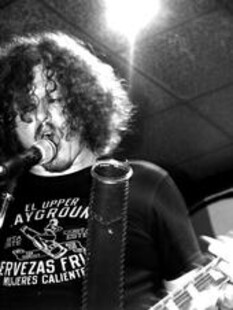 It was one of those hot and sunny days that seemed custom-built for a gig like this one and I had been looking forward to it for ages. The crowd formed a gallery of facial hair (except for the lady folk) and at half eight-ish things got rolling.
Due to go on first were Stop That Astronaut, although down to a last minute logistics nightmare, vocalist/guitarist Ste arrived on his own and treated us to a one man/machine set of Bastardizer songs. Props go to the guy who, instead of cancelling, took it like a champ and gave us 15 minutes of punky riffage over his programmed drum machine. Along with the award for sheer gumption that he deserved, he might have just grabbed the lyric of the night. Taken from 'Inbred Piece Of Shit', altogether now...
"You shagged your mum /She sucked your dick /You touched her tit - REDNECK!"
We (Double No No) went on next to do our 'dark country americanoir™' thing. Our set was a joy to do and well received as a 'crossover' section of the proceedings. Our Witchcraft cover went down well with the Swedes too!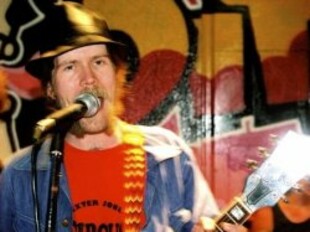 Speaking of Swedes, Dexter Jones' Circus Orchestra started and all of a sudden, the vocal P.A. sounded like a 10K rig. Tia, David and Bjorn's guitars blended together perfectly, you could practically hear everyone thinking 'great tone, man...' as the head bobs became full on, beard shaking headbangs.
If you like your rock vintage, classic and honest (which we all did, it turns out), then you would have loved this band. Free and Lynyrd Skynyrd influences were clear but the songs were inventive and original. Their new album 'Side By Side' , out now on Fuzzorama Records, made up quite a bit of the set, alongside older tracks like the uber-riff of 'Reborn or Despair'.
The bar had clearly been raised by now, and a few of my mates were ready to leave happy there and then. But then they had never heard Josiah before.
The southern twang of DJCO gave way to Mathew's punishing guitar sound and the frantic attack on the poor cowbell, which never seemed to stop. I think I can still hear it now...
Josiah did indeed walk away with the Golden Riff Award tonight. The instrumental breakdowns were Nebula-tastic! Their sound was more contemporary than the previous bands, owing more to Fu Manchu or Motorhead (the latter probably thanks to Keith's drum skills).
They could have just carried on all night by the reaction they got but they eventually closed with what I think was 'The Scarlatti Tilt'. I could be wrong though (damn you Guinness).
Both of the headline bands agreed that tonight had been the best night of the tour over here so far, due to the great crowd and fantastic room above the Cricketer's. I'd had so much Guinness by this point that it had become the best night ever since the universe began. It might have been, though?