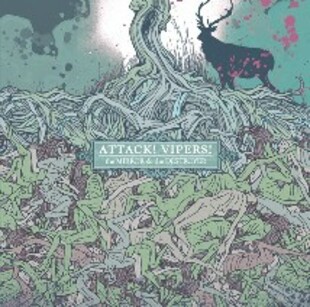 I reviewed the 7" on here from this band and at that time even in their infancy the Attack! Vipers! were a fully formed killing machine with nasty pointed teeth. After their previous outfits I was expecting some thing good, and the 7" blew me away to new realms.
The full length arrived in my hands this weekend and ever since I have had it on constant rotation. It's gone beyond what they achieved on the record. And where that left me wanting more I now feel fully satisfied.
Seven high paced tracks kick you in the head at a rate of extreme knots... then the last track, the title track, creeps up on you (with beautiful acoustic intro) like a lumbering beast sneaking up behind you ready for the kill. Compared to the viper attacks of the other seven tracks this is a big fuck off bear!
Other stand out tracks for me come in the form of fourth track 'One Four One'. Possibly the best hardcore/fast metal song ever written - vicious and nasty, but with a really strong hook line... these boys maybe doing nasty music but their days in melodic hardcore and indie bands is not lost with strong melodies such as this and 'Holy Ghost'. But throughout the album a real sense of urgency and delivery is given out. Not only this but the record has a clean yet real production quality to it that while every instrument and vocals cuts through perfectly does not feel lifeless and plastic. A real room to breathe.
Not only is the record itself a complete package of vicious sounds, but the artwork completes as very tidy package.
If your a fan of faster stuff and heavy tunes this will be probably the best record you will buy this year... where next for the Vipers, how do they top this... and you know what? I think they will lash out and surprise me again next offering.