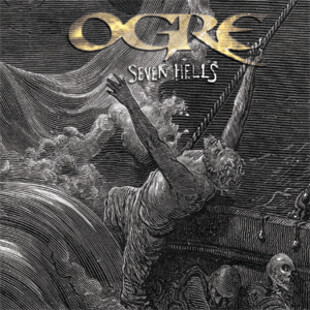 With a name like Ogre you're sure to expect something big, heavy and hairy and 'Seven Hells' won't disappoint you. It's big on the retro vibe, heavy on the doom and hairy on the, er.... rock!
It's a credit to this guitar, drums and bass trio from Portland, Maine that in a genre so obviously in debt to influences from the past they manage to create a sound distinctive enough to let them stand out. The opening track 'Dogmen (of Planet Earth)' is a clear statement of intent for what is to come on 'Seven Hells'. With great lyrics - "Ten thousand years to roam, the man from space is home" - and well-constructed riffs it is equal parts apocalyptic and cosmic.
'Seven Hells' is the second album from Ogre and offers some great, drawn out doom rock jams as well as some more up-tempo stuff. A brilliant homage to the terrors of war, 'Soldier of Misfortune' offers a first person account of killing and dying in the Vietnam War - 'So now I hang from a jungle tree...steely knives smiling up at me'. It's clever lyrics and choice of subject only serve to add to the great 70's vibe.
It's not all doom and gloom though. Well, ok it is all doom but not all of it is gloomy. The most upbeat track on the album 'Woman of Fire' is a classic straight ahead doom rock lick with riffs and melody to burn. Throw a Pentagram cover into the mix in 'Review Your Choices' and my mind is made up already. This is a must have album for retro doom fans. But, if you're not convinced by then, 'Seven Hells' saves one of its best tracks for last. Penultimate track 'Sperm Whale' is a slow, riff heavy jam. Just over seven minutes long it incorporates a minute and a half drum solo and progresses into a seriously psychedelic spoken word type dirge before returning majestically to the riff worship whence it all began.
And then there's still the thirteen minutes of 'Flesh Feast' to top it all off. You should get this one. It's damn good.