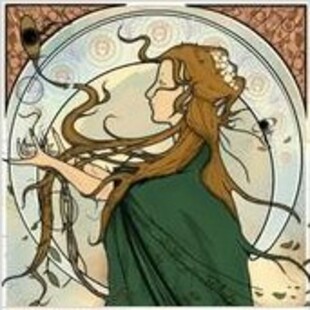 Any album that immediately reminds me of End of Level Boss before breaking down into a dreamy, proggy Masters of Reality type change not two minutes in is sure to grab my attention from the off. And while the plodding riff at the start of the following title track feels a little laboured, it's a promising opening.
The thing is, this isn't exactly how it goes from there on. The album has a vast array of influences that takes the music through a number of styles. You begin to notice after the second track appears to finish, only for it to return with 80's guitar solo and enchanting female vocals repeating the album title. 'Communion' develops the classic-doom feel that has crept in, with a Wino-esque riff and male/female joint vocals combining impressively. The increasingly dominant prog-rock aura is augmented by spaceship sounding synthesisers and an array of extra-curricular instruments, including a violin, piano and flute.
By the time you reach half way a definite folky feel is emerging, and they finally take the bait on 'Helix' and delve headlong into 'Robin of Sherwood' territory. Perhaps Circulus would be the more pertinent reference here, but with that boat having left me behind looking somewhat bemused from the shore, I can't really justify the comparison. 'The Swallowtail' follows on and there's a sense of devolution as sweet vocals accompany flute and acoustic guitar. A minute into 'Do You Think Of Me?' and I'm beginning to wonder is it's too much, but then, phew, they put some money in the meter and the electricity is back, and we return from medieval times. It's a big, meaty riff too as if to emphasise the point.
'Black Kiss of an Angel' completes the album in great style - stoner rock guitars and organ together inevitably brining to mind the Spiritual Beggars and Suns of Thunder. It's a comforting reminder to those who may despise the prog-fest that went before (and there will certainly be those who do) that the rock is never far away.
To be honest, if I were reading this review I'm not sure I'd be scurrying to my Paypal account to purchase 'The Sun Will Rise', instead maybe pointing my friends who are of a certain musical inclination their way (and I will most certainly be doing that now). Having had the pleasure of hearing the album though I've been converted - initially intrigued, then surprised, before finally realising I'm listening to it yet again the instant it finishes. With the momentum in stoner rock and it's sister genres heading this way (think of Rise Above's recent signings Witchcraft, Circulus and Gentlemans Pistols) then Electric Mud Generator could be the next big thing.