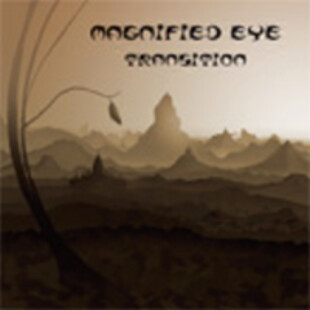 I could recommend this album quite highly. But, I'm not going to. Why? Well because Magnified Eye could quite clearly have produced a much better record than this and it's bastard annoying that they haven't, that's why.
I had a bed feeling about this 18 track album as soon as I read in the press release that "it will contain eleven intense and melody driven tracks all chained together with small instrumental intermezzos, depicting the continuity and constant change of existence". Ok, I thought. I can't just throw it away, I have to at least give it one listen.
So, I was very pleasantly surprised when after the opening 'intermezzo' (or was it an intro?!) of some 50s B movie type mad scientist guy saying something freaky about something freaky, the first track starts with a good looping riff and a righteous 16 second vocal wail before turning into a pretty catchy piece of modern rock with classic leanings. Good riffs, good production, got my attention. Cue 'intermezzo'. Some thirty seconds of pleasant but dull acoustic guitar plucking. Track two picks up the baton and returns to the pace of track one with a driving riff and some good strong vocal melodies. These guys are clearly at the very least competent musicians and songwriters. They show some variety with the modestly stomping mid tempo title track and the stoner meets Life of Agony-esque 'Soul Flame' using some nice little running riffs and more strong vocals.
Cue, 'intermezzo'. More banal, out of place acoustic strumming. This time we are treated to over a minute before returning to the music proper. The early 90s Seattle-sounding 'Jezebel' contains the frankly ridiculous lyric 'I wanna dig your heart out with a spoon' but, is otherwise quite an enjoyable slow groover. Cue, intermezzo. This time there's some extra twiddly bits. Woo hoo.
Ninth track 'Religion's Children Come in Herds' uses, in parts, a groovy QOTSA-like riff and, also, reminds me of a band that I can't quite place. It's a good thing though. It's obviously a good band cos it's a good song. Cue, bastard 'intermezzo'. This medieval type stuff is all well and good but, if I wanted to listen to Circulus I'd bloody well put the album on myself. This is some kind of rock fan's psychological torture. Guantanomo Bay type stuff.
Album: "Here's what you want to listen to, isn't that good?"
Me: "Yes, actually"
Album: "Ha, ha, you fool. Now here's some twiddly guitar and some guy crooning over top of some pap harmonica."
Me: "Aaaaaarrrrrrggggggghhhhhhhhhhh, twats"
The running order from track nine onward is basically: good song, intermezzo, good song, intermezzo, good song, intermezzo, good song, intermezzo, okay slow song, good bluesy song. It's hard to maintain interest around this point. I can see that Magnified Eye are trying to do something epic and something arty but, and maybe it's just me here but, I likes the rock. They write good rock songs. Why are they pissing about?
I am perhaps being over-harsh. My attention span is not what it once was but, neither is my patience for pretension. They could probably have produced a storming 10 track album by shaving off a few minutes from some of the longer tracks and dispensing with the interludes altogether. If they had I'd be raving about it right now, but they haven't. Someone, maybe a producer, maybe a record company guy, maybe even someone in the band needs to tell someone else to stop indulging this over complicated, creative whim and knock out a no frills, barnstormer of an album full of four minute rock gems. Until that day I have to say, investigate with care.