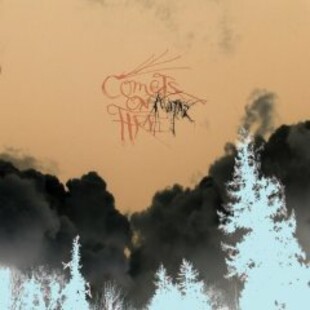 This is one for all the psych fans, and, let's face it, we all secretly love a bit of psych. It's all here: 70s rock moments, Hendrix-esque jams, downright daftness.
I'd never heard them before, which should come as no surprise as I live in a sad little world where the walls are built of the over-played remnants of Nirvana, Melvins and Beatles albums. Recently, however, I've been a bit more adventurous and gone back to people like Love for inspiration. It looks like other people have been doing the same, if this album is anything to go by.
On looks alone, you'd never know this album is unrepentant psych: the cover has got trees in negative, and the insert booklet has all the lyrics set out in illegible handwriting. I looked at it and thought, 'Oh god, another wanky emo band', but I'm glad to say I was wrong.
Things are decidedly guitar-led, with big riffs and lovely running basslines which make you want to punch the air in appreciation. Then come the tuneless noodly solos (always a plus in my book) and the endless repetition which is the hallmark of a band which has funny-smelling plants growing in the basement. There are keyboard bits, possibly courtesy of someone channelling the bloke from The Doors. And the drumming is divine: I really want the drummer to be a dribbling beardy type, but I suspect he'll turn out to look like a Marine Biology PhD student.
Stand-out tracks for me would be 'The Swallow's Eye', which is a heavy vocal-free extravaganza with all those bits I've just mentioned crammed into one song, and the one immediately after it, 'Has Teeth', in which it all gets a bit hectic and Church Of Misery-like. There aren't really any weak tracks, though, just head-noddingly compulsive jams rammed full of tasty bits. I'd even go so far as to say that this is the band I want to play in at the moment.
It may not be your typical Ninehertz metal fayre, but there are grooves aplenty, and repeated listenings are rewarded with layers of cleverness that make you want to rip the damn thing from the stereo and fling it across the room. Absolute bastards.