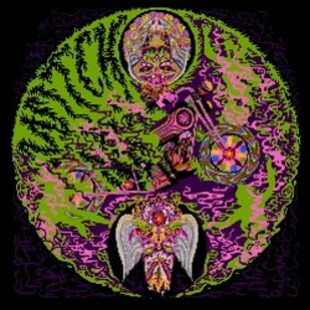 Witch's self titled debut for Teepee Records packs some of the finest 70s inspired doom rock I've heard in years, and by all rights, this album should appear in every self-respecting stoner/doom fan's record collection.
Opener 'Seer' is a case in point; a spirited bluesy number that explodes into a crescendo of heavy riffing and soaring vocals, seamlessly alternating between a subdued verse and a blistering anthemic chorus. It's an utterly glorious example of just how good 70s-inspired rock can be, and it's the kind song that I could see selling them millions of albums, should Witch ever receive the kind of exposure they truly deserve.
Given the sheer quality of the music on offer here, it may not surprise you to learn that Witch have amongst their ranks J. Mascis of Dinosaur Jr. fame, along with his close friend Dave Sweetapple, Kyle Thomas and Asa Irons, who are both members of avant-folk band Feathers. Admittedly, their respective full-time bands have little in common with 70s rock, but the years of musical experience, regardless of genre, really shine through.
You see, Witch succeed where so many bands have failed, managing to sound quintessentially retro without ever sounding stale or clichéd. There's enough in the way of variation to keep this little gem interesting from start to finish as the band manage to convincingly belt out everything from straight-up high octane rock to haunting Eastern-influenced epics.
The songwriting is superb throughout and I'd be hard pressed to draw direct comparisons to any one band. Whilst there are definitely noticeable influences from the likes of Black Sabbath and Led Zeppelin, it's abundantly clear that Witch aren't remotely interested in becoming a carbon copy of either band. Their sound is quintessentially their own, boasting haunting melodic vocals and some wonderfully intricate dual guitar work. The riffs are infectious, the arrangements are well honed and the vocals have a soulful quality to them that just sits perfectly with the music.
The album has a full and warm production that serves to further enhance the well realised 70s vibe. Overall, the mix is well balanced, giving slight preference to the guitar tracks without sacrificing anything in terms of overall clarity. The guitars are impressively textured, utilizing a rounded fuzzy tone that retains just enough bite to avoid sounding overproduced. The overall sound puts me a little in mind of Earth's 'Pentastar' album, but with a little added vigour.
Needless to say, if you enjoy bands like Goatsnake, Witchcraft and Pentagram or, for argument's sake, any quality 70s rock, you should definitely run out and buy this immediately. The summer is fast approaching and Witch have just provided the perfect soundtrack.