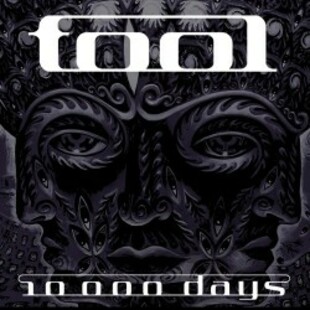 Yes - this is my first attempt at a review, and yes - Tool are my favourite band in the whole world ever (ever), but I'll be damned if this less-than-helpful start is going to prevent me from having a stab at fairly reviewing the new album from the LA quartet.
First things first, the packaging is possibly the most elaborate sleeve you'll see from a platinum-selling band (until the next Tool record, of course - presumably due in 2011). Complete with a set of stereoscopic (a slightly more primitive version of Magic Eye) lenses built into the lavish hardboard sleeve, the whole thing unfolds into a portable 3D theatre, with Maynard James Keenan and co jumping out at you from elaborate scenes of Crowlean intrigue.
As elaborate and intriguing as the artwork is (and always has been, from 1992's 'Opiate' EP, right up to 2001's seemingly unbeatable 'Lateralus'), Tool have always put the music first, despite their enigmatic image. Hitting play with a certain degree of anticipation, opening track 'Vicarious' starts things off with a complex, undulating bass/guitar intro not too dissimilar from the mid-section of 'Schism'. The riff builds and builds, with a ringing alarm-clock-type bell rising in the mix towards the thundering main riff. This song is the perfect start to the new album, recalling the sound of it's predecessor, but still introducing something new. Maynard's vocals, as with the rest of the CD, seems slightly subdued compared to previous efforts - many of his parts bring to mind his other band A Perfect Circle, which contrasts well with the aggressive riffage.
Much has been said on Internet message boards and the like about the lyrical aspect of this album, regarding them as not quite on par with the other records. While 'Vicarious' would certainly confirm this, the music overshadows the words so much that you don't even notice. Tracks like 'Jambi' and 'Right In Two' do a fair bit to re-assert Tool's fabled lyrical talent - while other tracks like the astonishingly chunky 11-minute 'Rosetta Stoned' use the more casual, straight-forward direction to great effect. This song layers up vocals to create the dense, frantic ramble of an acid casualty burdened with the details of Armageddon by an alien race.
One of the highlights of the record is the epic pairing of 'Wings For Marie [part I]' and '10,000 Days [wings part II]'. These songs, as a whole, definitely mark a new step for the band, whereas other songs seem to borrow heavily from Tool's past. The first part plays out quietly, as layers of Adam Jones' effect-laden guitar rise and fall, moving from speaker to speaker (it sounds quite disorientating on headphones!) as Maynard croons about 'going home'. The second part runs for a full 11 minutes, slowly building from Justin Chancellor's clanging bass intro over electro-noise-hero Lustmord's thunder claps and rainfall. Danny Carey's sublime percussion (throughout the album his drumming is as ever, superbly technical) adds to the entrancing vibe until Maynard's impassioned plea to 'give me my wings' heralds a funky, swirling, off-kilter jam.
It's both familiar territory yet unlike anything they've done before - which certainly seems to be the theme of this album. Fans of 'Opiate' and 'Undertow' will be pleasantly surprised with 'The Pot''s funky, blues-based riffs and high-pitched vocals. Fans of 'Aenima' will enjoy the noise segues and use of samples ('Lost Keys (Blame Hoffman)' is excellent). Fans of 'Lateralus' will love the light and dark of 'Intension' and the catchy 'Vicarious'.
It almost feels like this is the Tool album for Tool fans, and there is a slightly disappointing sense that they're running out of steam - too many of the tracks are reminiscent of the past, when Tool have always been a band that have forged forward with new ideas. However, simply for moments like 'Wings...' part I and II and 'Right In Two' (bar the 'Pushit'-esque tabla solo), and the overall vocal approach, I feel they can be forgiven. If these moving, towering songs are a sign of things to come, then I'm sure we'll all still be salivating at the thought of the next one. Whenever that may be - to quote one of the better new lyrics: '10,000 days is long enough'...