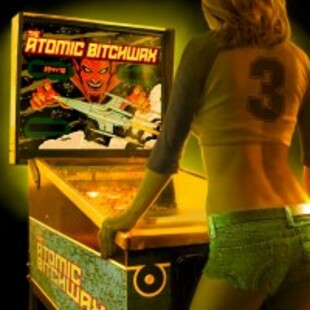 The effect of the loss of Ed Mundell from the ranks of the Atomic Bitchwax was always going to be a big one, although no one was really sure whether it would be in the positive or negative sense. Some thought they'd flounder or even disappear without the Monster Magnet guitarist's musicianship. Yet this split also provided the potential for the band to grow out of the shadow created by claims that the Atomic Bitchwax were merely a side-band for Mundell, not to be taken too seriously.
On the evidence of their first release since parting with Mundell, '3', the change is indeed a big one, thankfully, almost definitely positive. While the typical bluesy rock of earlier Atomic Bitchwax releases is definitely noticeable, '3' differs at great proportions from its predecessors by including huge pop hooks. The first listen or two to this album can be given completely over to surprise - I didn't know whether I even liked it or not so taken aback I was with the albums immediacy and breezy pop nature. A couple more listens, and you begin to go with the flow and realise there's a lot to enjoy. From the classy opening double of 'The Destroyer' and 'You Oughta Know' through the heavy stomp of 'Going Guido', and finishing with the robotic chant-intro of 'Half as Much', '3' has more than its fair share of quality songs, riffs and those damn infectious hooks. And boy, do they stick in your head. You'll be humming this album wherever you go - they are that catchy at times it starts to even annoy.
Not that a song's ability to stick in your head and make you think of better things when you are slaving away at work on a Monday morning is really a bad thing. The only real complaint you could have regarding '3' would be that it is a little too slick, definitely in parts, possibly as a whole. For example, 'The Passenger' is one of those that surprises on first listen with its vocal effect, but when comparisons to chart dance vocals start to form in your head you need to be worried - even if the main lyric revolves around filling space with "fuzz". Yet despite this, '3' does feel like a real achievement - helped by the fact that each song is distinctive, meaning that on the whole the album is very strong. There's a joy to the songs that you can sense - not in a Bad Wizard style retro way (despite the Deep Purple cover 'Maybe I'm a Leo') - this is original rock from 2005 and the good vibes definitely do their job in rubbing off on the listener.
'3' will be loved and loathed by long term fans. Some may lean towards the latter, claiming betrayal from the dirty rawk provided earlier in the Bitchwax's life. But don't let my emphasis on the pop hooks fool you too much here - this ain't gonna impress to many indie fans (who would probably wince away from the riff in 'Going Guido' anyway). I feel yet more will enjoy '3' a hell of a lot, provided they don't over-expose themselves to in the first month after purchase. With the possibility of it attracting a whole new audience, including those once cynical towards this band (because of the side band issues and quieter claims of unoriginality), then '3' may just well be the best thing they've ever done.