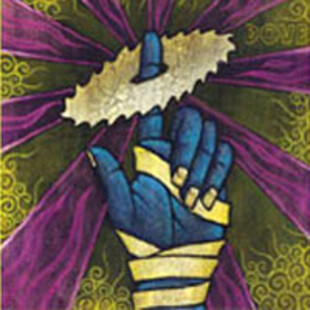 If you are familiar with sludge legends Cavity or more obscure but just as great Floor then you may have heard of Dove. Guitarist/vocalist Henry Wilson played in both bands and there is certainly a clear link with both bands in terms of sounds. He split Floor about a year ago and this album emerged very soon after, so I guess similarities are unavoidable. But whereas Floor dealt equally in melody and crushing riffs, with Dove it's a much more head-down aggressive affair, bordering at times on almost hardcore intensity. That said, there is just enough slo-mo riffing to appease Cavity fans, and enough weird melody to keep it interesting.
Opener "Thank You For Patience" is a low tuned acoustic instrumental which leads nicely into the face melting "Goes Without Saying" - and this sets the pace for what follows. The production on this CD is outstanding, for an ex-drummer Wilson has the meanest guitar sound this side of Matt Pike. It's seriously woofer-threatening! The songs are deceptively short with the entire 14 clocking in at under 45 minutes, but don't be mistaken into thinking this is attention deficiency rock, Dove have just learnt the secret of cramming epics into three minutes.
I've been addicted to this CD for months, yet still struggle to describe what it sounds like. Perhaps in keeping with the cream of the current crop (Mastodon/High on Fire/ Isis/Capricorns) it's just not pigeon-holable - but that should be a good thing. Fans of everything from long forgotten destroyers God Machine to the Melvins to early Corrosion Of Conformity should get their doomy mits on this CD right now!!!