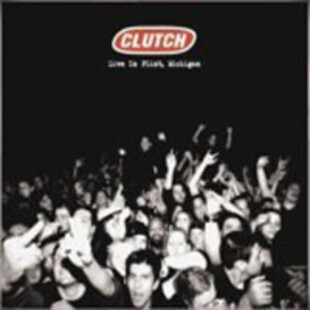 Even when released by your favourite bands, live albums are often a bit of a waste of time - very few have ever served as anything more than a completist's plaything. Why play the live recording when you've got the original album? Then there's the issue of sound quality; too well produced and the band is accused of losing the live spirit, too far in the opposite direction and the sound can be muffled, distorted - basically shit. Fortunately, Clutch have managed to overcome this conundrum, balancing firmly on the line between sound quality and live spirit.
With Clutch, there's an appeal to a live album that isn't there with other bands. Despite having a fruitful, consistent recording career spanning seven superb albums, the true essence of the band can only be caught in a live setting - the interaction with the crowd, Neil Fallon's comedy antics, the pure energy exuded by the band. They also seem to revel in a 'jam' or two (without turning into Phish) and use the live arena to improvise, giving the fans something different to the bland, note-perfect CD playbacks other groups can be guilty of. Yet this isn't Clutch's first live release - 'Live at the Googolplex' takes that honour, and that was disappointingly unable to capture their live essence.
The beautiful two-disc 'Live in Flint, Michigan' package includes 29 tracks from across their career. The first disc begins with a trio of songs from last year's 'Blast Tyrant' before launching into 'Escape from the Prison Planet', recorded nearly a decade earlier. More recent material is, inevitably, well represented throughout, but it's the collection of songs from 'Jam Room' and 'Clutch' (dominating the middle and end of the disc) that entertain the most.
The second disc jumps around a bit more, from the opening double act of 'Equinox' and 'Hoodoo Operator' (from rarities collection 'Slow Hole to China'), through '...John Wilkes Booth', 'Pure Rock Fury' and 'Subtle Hustle'. It's all impressive stuff, and you just wish they were playing your town - tonight. The old school trio of '...Monster Trucks', 'A Shogun Named Marcus' and 'Impetus' make for a thrilling ending.
But does it break the live album mould? Well, it does sound great, and the track listing is as strong as any band could wish for. But next time I fancy a bit of Clutch, will I be reaching for this over the original albums? To be honest, the answer is no. As a Clutch geek, I'm happy I've got it - but it remains one for the completists out there.