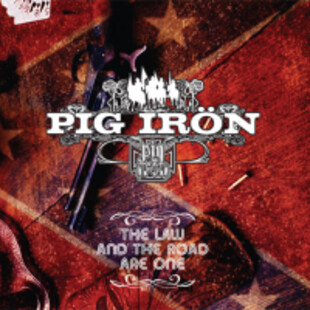 Stoner and doom rock, or whatever you want to call them, are intrinsically retro. It hardly needs to be mentioned, between those who possess more than a couple of Queens albums and Powertrip, the natural reference for releases in the genre. With a common template of heavy 70's rock, in particular Black Sabbath, it is the evolution and innovation from this base that keeps the music so vital, even in the 21st Century.
But what then of retro-stoner? The term can only apply to either bands with a lack of originality, or those who draw direct from the source in an attempt to recreate the passion, soul and joy of the sound. If Pig Iron are guilty of the term, then it is surely the latter reason that applies.
The two obvious influences on 'The Law and the Road are One' to mention are - surprise! - Black Sabbath and 'southern' 70's rock (think Skynyrd or ZZ Top). The Birmingham legends imprint is most noticeable on 'Another Mule (Is Kicking On My Stall)' (where vocalist Johnny Ogle sounds uncannily like Ozzy Osbourne - you'll find yourself singing 'Sweet Leaf' along to it) and 'Guns N Ammo', which sounds like the amalgamation of 'Into the Void' and 'Sabbath Bloody Sabbath'.
The harmonica present at several moments of the EP is testament to the 'southern' rock influence, as is last track 'Lord, Kill the Pain' - not to mention the Stetsons sported by bassist Hugh Gilmour and guitarist Dave Pattenden in the sleeve pictures.
To be fair to Pig Iron, there are also more modern pointers - there's a definite doom undercurrent that occasionally surfaces - the opening track is entitled 'The Pentagram' with lyrics by Aleister Crowley - and there are a few nods to Wino. The excellent guitar throughout can be favourably compared to Sixty Watt Shaman. But the overall message is of pure, unashamed retro 70's rock, solos 'n' all.
So, is there a place for Pig Iron? Ever have those drunken party moments where all you want is loud, rocking music to sing along to, beer can aloft? If the answer is yes, then 'The Law and the Road are One' may just fill a hole in your record collection.