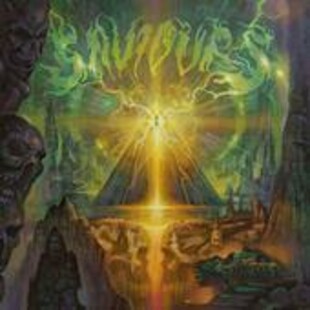 Saviours are a meaty four piece from Oakland, California, rumoured to have formed in 2004 after a 'vision quest' the band shared. They unleash a NWOBHM style speed-sludge with phenomenal twin guitar harmonies combining with their early thrash meets doom riffing.
Their key early track 'Circle of Servants Bodies' was a standout on the fantastic, scene defining compilation 'Invaders' last year. Its mixture of huge riffs, quality lead and a coherent but aggressive vocal is extremely addictive. Saviours solid new second album (and first on Kemado Records) 'Into Abaddon' has one the coolest fantasy album covers of all time (by Motorhead artist Joe Petagno) and it was produced by QOTSA and Tool producer Joe Barresi.
Last year, the band were hand picked to support Mastodon on their huge UK tour and this Spring they are destroying ears supporting The Sword around the UK. Unusually, it's Saviours drummer, Scott Batiste, who writes the songs. He uses a knackered bass guitar cos 'if it sounds good through really thick, knacked-up bass, it'll sound even better coming from all of us.' We spoke to Scott while they tour the US...
Thanks for taking time off on the road to do this, it must be an exciting time for you guys right now? You have a fantastic second album out on a cool label. Does it feel like something is happening - with decent heavy music doing better?
"Yeah, we always have a killer time, regardless of if decent music does well or not. There has been a handful of great shit to come out lately so yeah maybe something's happening but we're not gonna hold our breath or anything."
It's a cool name and vibe. Did you all agree on the concept right from the off?
"Austin and I started the band, and we just wanted to make a band that is fucking heavy and punishing and where we do it our way with no bullshit."
You must be looking forward to the UK tour with The Sword?
"The Sword tour is gonna be a rager. Those guys are our bros and we are gonna need to be smoked out every night..."
Nice one, it's going to be huge. What can people expect from Saviours live?
"We are just gonna do our thing. Play killer, make you a little more deaf, and then party or whatever. It seems to have worked so far."
Do you feel a kinship with the bands of Kemado and some of the others around like Black Cobra etc or are you wary of falling into a scene?
"Kemado has a cool thing going. All the bands have a not so tangible thread that runs through so it's easy to relate. As far as a scene goes, we are not too interested in such things. We feel a kinship with good people who can fucking hang and not be douchebags, from Nachtmystium to Titan and beyond..."
Yeah, Titan are amazing and seem really chilled too, I'll check out Nachtmystium. So what are you main musical influences? Saviours have an individual sound but the NWOBHM seems to be in there. Any particular bands? Any prog or other bands you would recommend?
"We have a wide scope of influences... Priest, Maiden, Diamond Head and much more, so for the NWOBMH thing that's there for sure. But lots of other shit... Yes, King Crimson, Black Widow, Blue Oyster Cult, tons of shit. There's no one band that we're trying to ape or anything we're just constantly on the hunt for the best riffs."
Right, and are there any more recent bands from your area that had an influence on you when you were starting out? I guess Matt Pike's a local?
"We've seen Matt Pikes bands a million times and they only get better. I'm sure exposure to that has had an effect - as other Oakland bands have, but we're not trying to do his thing or anyone elses."
Would you give any advice to kids wanting to start a heavy band right now?
"Just do what you genuinely want... and no one likes a light-hitting drummer!"
The artwork on the new album is totally amazing. You must have been stoked to have Joe Petagno work on it for you? What's the concept?
"Yeah, we were honored to have him do the art. I wrote to him and he ran with the idea. The basic concept is that the outside cover is the 'below' and the inside of the gatefold is the 'above'."
So are you all into fantasy kind stuff generally?
"Not so much the fantasy but more the mystic and the occult stuff that interests us."
Yeah sure, so what's the attraction of the occult and fantasy right now do you think? Is it escapism we need?
"It could be... the world's pretty terminally fucked."
Saviours new album 'Into Abaddon' is coming out now on Kemado Reoords.
The tour the UK with The Sword and Black Cobra from March 25th
Check out the new video for 'Narcotic Sea' online
Marek Steven