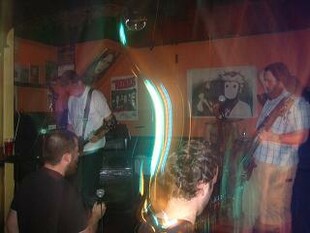 Earlier this year, ninehertz faves Flatlands set out in a bus on a UK tour with Welsh trio Death of Her Money. With guest appearances from Art of Burning Water, Taint, Black Eye Riot, The Mirimar Disaster and Red Stars Parade, and plenty of cider, motorway food and drunken nonsense, we asked Si Baxter, Flatlands' bassist to record the events. What follows is the result.
Main cast: Flatlands: Adam - guitar, Fred - drums, Gareth - guitar, Mike - vocals, Si - bass; Death of Her Money: Ian - drums, Kaskie - guitar, Nicky - bass.
The Anglo-Welsh 'Knob Out' Roadshow 2006 or Flatlands & Death Of Her Money - Si's Tour Diary
Saturday 3rd June - Bristol
Oooh, tour... and it's a bit warm out. Ensuring I have an adequate supply of large shorts and checked shirts, I wait for the others to arrive in our truly monolithic tourbus. Adam performs heroics in managing to drive right to my house without destroying any parked cars. I pause to note the extra personnel - for the whole week: Mike's brother, Tom; Mike and Fred's flatmate, Kirsty (brave or stupid? Only time would tell); the Big Bastard Baby, Mark (wouldn't be tour without him); and for the day: Bring Out Your (Smooth) Dave and friend to the stars, Jen - and then hop into the front seat, grasping the road atlas for comfort. We stop at Asda for supplies on the way out of town, and I decide that it's going to be a cider tour, and buy a shitload of scrumpy.
The trip down to Bristol is hot and uneventful (apart from watching a shitload of chavs getting arrested at some services), but that's motorways for you. We find the venue thanks to our good friend Nick's novel approach to directions, which basically comprises of using rub-a-tug shops as landmarks. Finding somewhere to park is a different matter, and we're all very disappointed that there aren't any spaces on Lower Gay Street. We buck up, though, when we get in the venue's back yard and see that there's a big, red clit on a nearby wall. The pub also has scrumpy on tap, which cements my drink choice for the week. To top it all, our old mate Kunal is putting the gig on, and it always warms the cockles to see his ever-smiling face. Then Death Of Her Money arrive, and we start the getting to know you process, having only met the lads once before. This involves drinking and swearing.
So to the show. DoHM open up, straight away confirming we were right back on that fateful night in Newport when we decided we were taking them on tour. We play a shorter set due to the heat and come off stage several stone lighter and vaguely disappointed. It's a weird venue, this. The stage is about 6 feet from the bar, so everyone has to cram into a really small area to watch. After us are a couple of forgettable (but very drunk) local bands, so I head outside to cool down. Ian from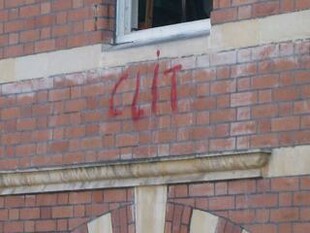 DoHM chooses this period to liven up everyone's night by climbing out over the back fence and back in again before using his head and a run up to knock down the back gate, a feat which he later repeats in disgust after band mate Nicky props the offending article back up again.
Next comes first sighting of the unofficial third band on this tour, Art Of Burning Water. I can't really remember much about their set; I think I was beginning to suffer from booze related daftness. Taint are the surprise headliners, having stepped in at the last minute when some bozos pulled out. They rock the joint, so to speak, but never quite achieve the terrifying levels of their Sheffield appearance a few weeks earlier when 3 people passed out through sheer volume.
We then pack up the van, and head round to Nick and Emily's place (he of brothel-fixated directions, she of presumably infinite tolerance) to crash out. By this time, Fred is amusingly drunk, and decides he's in love with the poor lass working in the local takeaway. He's wrestled out of the door by well meaning friends after asking her if she'd like to swap pants. This is topped in the buffoonery stakes by Nicky running headfirst into a brick wall (for which he bears the scars all week), and by Gareth locking himself in the bathroom at Nick's and then passing out on the floor. DoHM's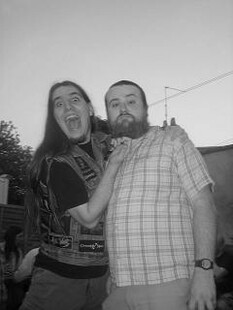 Kaskie attempts to wake him up, but his bizarre utterances serve only to alarm everyone else who hears them. Gareth just snores on...
Sunday 4th June - Cardiff
We get up bright and early and head out to a café across the road for that tour staple, the full English breakfast. We wave goodbye to Jen and Dave as Adam gives them a lift to the station, and then raid Somerfield for Lucozade and sweets. We've got time to kill, so we hang around at Nick's, watching daft videos on the internet and bad wrestling on TV. Fred and Mark wander off into the city, and return with possibly the most suggestive toy ever invented. It looks like something used at vetinary college to train students on how to harvest semen from animals... Emily lays on a huge pot of fantastic smelling chilli for lunch, I feel awful for not having any as I'm full of breakfast and Danish pastries... there seems to be a running theme of me being too full to eat lovingly prepared food while on tour. I need better warnings.
Then we're off to Cardiff. The views from the Severn crossing are awesome, but it's debatable whether or not they're worth the nine pounds and eighty fucking pence it costs to go across. Despite the fact that we're carrying three bona fide Welshmen and one exile, the grasping bastards still insist on the full tariff. We pause briefly in Newport for the DoHM boys to pick up some clean pants, and pose for some beautiful group shots on the stairs of the police station. Then on to Cardiff...
In a novel move for Flatlands on tour, we know where we're going thanks to DoHM. We soon pull up outside the venue on what seems to be an alley in the middle of nowhere much, until Mike pokes his head round the corner a bit later on and finds the Millennium Stadium. This explains the cavernous Wetherspoons over the road from the club, where Adam and I avail ourselves of that second tour staple, the gravy dinner.
If memory serves, we open up proceedings this evening, and play our socks off. The handful of onlookers seem impressed. DoHM perform in a likewise blistering fashion, then there's some other stuff that I miss by hanging around outside by the van drinking scrumpy and watching Gareth play football with a box on his head. I accidentally miss Vialka in amongst all this, a bunch of French nutcases I'd quite wanted to see. Damn. Adam, Mark and Kirsty don't help by going on about how good they were for the rest of the week. I go back in to catch AoBW, and the looks on their faces as Fred and Mark go into drunken heckle overdrive. Ah well, they'll realise we're not really twats in a couple of days...
Ian's sister and her boyfriend, the proud occupiers of a flat lying above a charity shop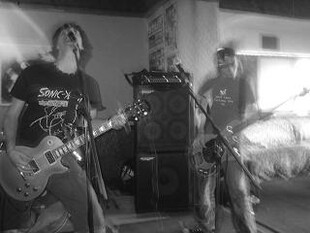 and a semi-outdoor second hand furniture emporium, provide the accommodation this evening. Mark, Fred and Tom decide to sleep in the van, meaning they're locked outside all night, much to the chagrin of the area's takeaways...
Monday 5th June - Swansea
We awake late to find our mobiles full of messages from our three intrepid van-o-nauts, who were apparently desperate to get in and use the facilities about 3 hours before we all roused ourselves. I wander downstairs barefoot to find them perusing the charity shop, having found a café up the road for emergency toilet use. A fat schoolboy has laughed at Tom.
We wander about the area, looking for food and anything else that takes our fancy. I am delighted to find a local bakers that has hit upon the novel idea of wrapping a full English, including beans, in a croissant and calling it a Brunchie. It tastes better than it sounds. I also stock up on checked shirts at a handily placed Peacocks. Tom fares less well, being refused quite rudely when asking for his feet to be measured at a Clarks shop - apparently they don't measure the feet of children over eleven, or unwashed beardy types.
The drive to Swansea is uneventful until we pull off the main road towards the city centre and get an incredible view of the bay from the top of an impossibly steep and narrow slip road. Swansea's not as bad as people tend to make out - if you believed the hype, it'd be the shithole of all shitholes - in reality it's no worse than any other industrial city or large town. It also has a beach, which is a damn sight more pleasant than Skeggy. Less human excrement, for starters. While at the beach, though, Mark decides he doesn't want to let anyone else have any fun and stamps out all attempts to build sandcastles or forts. I'd say he was over-tired, but that would risk comparison with that fucking Vauxhall advert, so I'll settle instead for calling him a tosser.
On to the venue - the Monkey Café is a stylish little place, with a good size live room upstairs. They also do real food, with actual vegetables and things in. Lordy. The place also boasts the most idiosyncratic soundman this side of Lincoln, which promises to be fun for all involved... As well as the three touring bands, the lucky locals are also getting treated to some Black Eye Riot mayhem. This promises to be a good night, a promise only enhanced when I find Barron's Night Club just up the road.
DoHM play first, and absolutely lay waste. They're really getting into their stride by this point. And Kaskie has started shouting 'Get knob out!' back at us in his broad Welsh accent, which I find fairly amusing. Then BER hit the stage, and all hell breaks loose for 25 minutes of high-octane insanity. When we come to set up, we have to wade through a sea of Stella that the band have been throwing at each other. Nice.
Also unpleasant is the temperature. I think I've been this warm once before, but that'll teach me for climbing in a blast furnace. That aside, we play one of our best shows to date. I enjoy it so much I pull out my entire repertoire of metal pointing, highlights including the 'James Hetfield' and the 'Slayer'. By the time we've finished, I'm a colossal sweaty mess and head off to collapse outside. I'm so hot I can't face going back inside to watch AoBW, which I feel bad about. But it does mean I get to take in some of the sights and sounds of late night, downtown Swansea, including an impressive variety of drunks and nutters.
Tonight we're staying at Ian's mum's place... which is a pub! Oh lord yes, our prayers have been answered. We're treated like kings, and what monarch could ask for more than a big plate of food and a lock in, in the company of the Welsh Michael Flatley (I kid ye not)? They even had a cider on tap called Taffy Apples. Eventually we all toddle off to bed, but it's fully light before I finally get my head down thanks to Ian's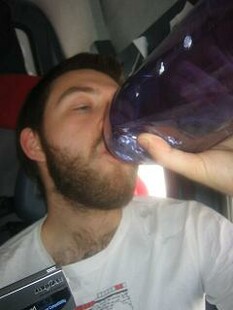 insistence that we all listen to drum'n'bass for a couple of hours first, and Tom's feet smelling so bad he insists a dog has shit in his bed.
Tuesday 6th June - DAY OFF!
Yes, you read that right. Our Derby date has fallen through, and despite AoBW's best efforts we've not been able to get on the bill they're playing tonight in Birmingham. So, ever the pragmatists, we decide to go and watch Jesu in Manchester, and get drunk while we're at it. Problem is, someone seems to have moved Manchester further away than it should be, and with a stop in Cardiff to retrieve items left behind (and another Brunchie), it takes us all day to get there. Boo.
Still, it's all good fun once in Mancland. The baby wanders off to meet a friend and drink, as he doesn't much fancy Jesu - fool, Broadrick is a sex dynamo. The rest of us head to Piccadilly Gardens to get crappy burgers and see a man with a head wound. We also see the Bogle King (see last tour diary), but unfortunately he's called it a day by this time and is just chilling out.
Off to the gig - the venue is boiling, I'm glad we don't have to play. We had considered begging to be let on, but thought better of it. Local doooooom mongers Atavist are on first - I know singer Toby from out mutual stoner rock days (he in Markus, me in Excelsum Superbum), it's good to see him again. This band are scary, so slow the drummer doesn't even bother with hi hats, the madman.
Jesu, despite the inexplicably rubbish sound quality, are reasonably majestic. Adam does a sex wee. Gareth gets over come by heat near the end, and sparks an incredibly bizarre panic - about five minutes after he wanders out, I get a call from our friend Ben, back in Sheffield. Apparently, someone he knows, who knows Gareth a bit, has spotted the little fella slumped in a street, apparently crying. Gareth is in fact sat by the van, sweating. Bloody fuss over nothing...
We liven up the wait for Mark's return by putting some quality dance music on the van stereo and tearing up the car park like it's 1992. Ian wins the dance off hands down. Kaskie livens things up further by getting a warning from passing police for public urination. A steady stream of whores on the lookout for business only serves to enhance the occasion.
Mark finally arrives, declaring, 'It's safe to say, I've had a few.' We're in trouble now...
The trip back is a surreal mixture of nightmare and comedy gold: Fred and Mark drunkenly bickering ('Stop copying me!'), Mark offering sage advice ('Don't drink White Frightening, it turns you into a tosser'). A comfort stop on Snake Pass sees Mike wander up a hill to see what's there, followed by Mark. Minutes pass - 'Where's Mark?' I innocently enquire. 'I'm 'ere!' comes the reply from halfway up the hill.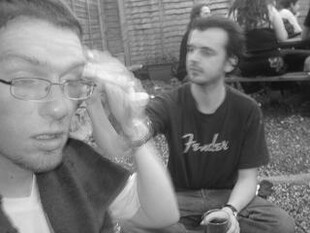 Looking up, I see a white shape approaching. I'm sure Mark wasn't wearing white when he left the van. Realisation creeps up on me like bad AIDS - he's not wearing white. He's barely wearing anything. Well, he has his shirt on his head and his trousers round his ankles, and, praise be, his pants are still where they're supposed to be. Once I recover from my shock and mirth, I enquire further, 'Where's Mike?' Says Mark: 'I bummed him!' You had to be there.
Mark then proceeds to ride Adam for a while, declares himself a figure of fun, and passes out in the back of the van. Luckily, he dresses first. He doesn't leave his seat until morning, bless him...
For those of us still awake, it's on to Sheffield, dropping off young Kirsty, and then on further to Lincoln, where Adam has an appointment to keep the next morning. For once, it's not the GU clinic.
Wednesday 7th June - Spalding
A lazy day begins with a saunter out of Adam's to the aforementioned Asda over the way for another helping of full English glory, except for Mark who has been up for hours after an uncomfortable night in the van not knowing where the hell he was, topped off by a morning shave in his own spit. He has also realised his mobile phone is still somewhere in the Peak District. We ring it, but sadly no comedy yokels answer. Still, such a loss can't spoil my breakfast, it's what makes tour the delight that it is. Well, that and scrumpy.
Speaking of which, we head into Lincoln and settle into the Brewers (home of the world's best bean burger, I'm told) for a few beverages. They have two choices of scrumpy - I go for the Weston's Old Rosie as it's on tap, while Mike has pint of something out of bucket that's sat on the back of the bar. It nearly makes him sick. That'll learn 'im.
Next stop Spalding, at the heart of the flatlands. Our resident valley boys do well not to be freaked out by the complete lack of scenery, I've seen Welshmen on the verge of tears after half an hour in the fens before now. Admittedly, that was nothing to do with the landscape or lack thereof, and more to do with the extreme mental and physical deformity of the local populace.
Still Spalding does offer some of the best fish and chips I've ever had, and I'm a connoisseur of greasy foods. I've been looking forward to these all week, and any worries that I've built it up too much are soon eased... we all eat far too much and nearly die of lard poisoning.
The gig passes by uneventfully, not many people in as luck would have it. Still, it's good to have AoBW back on board, and we bond with them a bit after the show, all in the usual macho fashion. Then it's away back to Adams. It's almost like home now.
Thursday 8th June - London
Ooh, the big smoke. None of us have ever played there before, and we're all excited. We decide to set off early, after being rejoined by Kirsty who has caught a ridiculously early train to meet us. We aim to get to London in time to do a bit of shopping and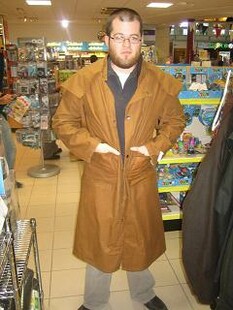 gawking, but unfortunately, the traffic conspires against us and we arrive at the venue just in time to get food in and get set up. Still, nothing can take the shine off today, as the gig is being put on by none other than the wonderful Mr Tim Holehouse, he of Naked Shit and Among The Missing fame. If you've read my last diary, you'll know that Tim and I are madly in love, and our reunion is suitably emotional. The other half of Naked Shit, the equally wonderful Lindsey, also turns up, and we all get over excited and nostalgic.
Onto the show... DoHM open it up - they just keep getting better and tonight they're terrifyingly good. It's a shame this tour doesn't go on longer... Next up is Tim, playing some of his solo acoustic musings. Always entertaining, he brings a sense of dark melancholia to his music that belies his cheery between song banter. And he honours us with a bit of a bogle.
We play a good, solid set, which goes down well with small but lovely crowd. Mark goes into heckle overdrive again, a phemonemon caught on film by Jason of AoBW. All I can say is, 'Angela Lansbury.' Next up are My Summer As A Salvation Soldier, a surprising offering from 3 members of Scandinavian hardcore types Fighting Shit. This is really nice music, but without any of the connotations of blandness that might suggest. Mike actually gets a tear in his eye...
AoBW round things off in customarily excellent fashion, and then we all gather out by the vans to say our farewells, as the lads won't be joining us at Party Central the following evening. No tears this time round, just a method of drinking that Mark christens 'the gay way to share.' Luckily, no tongues are employed and AoBW are only a bit worried. We also bid a fond farewell to Tim and Linds, and then it's off back to Sheffield, Adam preferring a truly superhuman day of driving to staying over and then braving London daytime traffic again.
The journey home is enlivened by Mike losing his temper, Fred nearly getting attacked by a huge man at a bus stop, Mark trying to put Ian in a box, DoHM stealing each other's shoes and Fred waking up and wanting the toilet 30 seconds after we'd just pulled out of a motorway service station.
Friday 9th June - Sheffield
I wake up in some discomfort on Mike's floor, having not been arsed with my air bed at the ungodly hour we got in at (yes, I said air bed. It may not be rock'n'roll but it stops my spine from going funny). We troll down to the nearby sandwich shop for greasy delights, then I head off to my own sordid little griefhole for a shower and more sleep...
I rejoin the entourage at The Vine, a den of iniquity just down the road from Party Central. We have a couple and then get some food, before heading back to get the place set up ready for the night's festivities. I'm all giddy, we've got some awesome bands that we're good mates with playing tonight - Castor Troy, The Mirimar Disaster and Red Stars Parade. Not to mention DoHM and our good selves, of course. The place is soon swinging along, and my evening is enhanced even further by the acquisition of Frank Mirimar's megaphone. This later proved to be an error, but at least the police didn't turn up... I'll be honest, I was a bit of a dick with it, but then I was quite drunk. I say the neighbours need a better sense of humour, who doesn't enjoy a fat drunkard shouting 'Knob out!' at a massive volume while they're trying to sleep?
The bands all rule, that's all I can say, the booze, the emotion and the sheer tiredness have completely robbed me of any meaningful recollection. I remember making everyone watch DoHM, and I also recall being blown away by Castor Troy, having forgotten quite how good they were.
As for our set, I remember Mark joining us on backing vocals, at one point combining the megaphone and a mic to devastating comedy effect as he played cheerleader to a mass heckle along to our closing number...you've not lived until you've heard 50 people crammed into a living room all rhythmically shouting 'GET KNOB OUT!'
I also remember fondling Dean Mirimar's beard pretty much the entire time they were playing. It is good though, pleasingly bushy. I also recall being handed the mic by Stocky to lead the crowd in a 'Get knob out' singalong to the intro of 'If Lockheeds Could Speak.'
RSP bring things to a riotous conclusion, with Gareth taking on Little Matt at a sport I call 'Tiny Man Wrangling'. Then it all quietens down as I slip further into a stupor. I remember our friend Dean (ex-Stabbed In Autumn, now Tiger Warsaw, not he of the bushiest of beards and Mizzle Dizzling) preventing Tom from Castor Troy leaving by trying to touch him with his penis every time he got near the door. That was odd, and hilarious, but I could have done without seeing Dean's cock, frankly. I also remember hugging all of DoHM a lot, lovely boys that they are. They didn't try to touch me with anything untoward, as far as I recall... then I must have gone home, as I woke up in my own bed the next day with a splitting headache.
And so, another tour draws to a close. I'm getting better at it, I didn't lose my temper at all this time round... well, not really. Maybe that's because I didn't have to stay sober or drive at all. As such, I have to make clear what a Herculean effort Adam made on this tour, doing all the driving, in some quite insane stints. He also drove DoHM back to Newport the day after my little saga ends... Truly the stuff of legend.
So, thanks time: the fat lads - Mike, Adam, Fred and Gareth (). The Death: Kaskie, Nicky and Ian (SAFETY!). The Art: Geith, Jason and Mike (play something in 4:4!). The entourage: Kirsty (drink whisky!), Tom (official tour Viking) and Mark (big bastard naked baby). The people who put us on and put us up: Kunal, Tim, Nick & Emily, and Ian's family. All the bands we played with, and, most of all, all the people who came out to see us. We love all y'all...
Links:
Flatlands website - click here
Death of Her Money myspace - click here
Si's previous tour diary (w/ Red Stars Parade + Naked Shit) - click here