In July 2005, London's Among the Missing joined forces with Nottingham's Bumsnogger, taking their unholy sludge alliance to the south coast masses. Tim Holehouse ('mong) and Chris Kaye ('snogger) reported exclusively for ninehertz...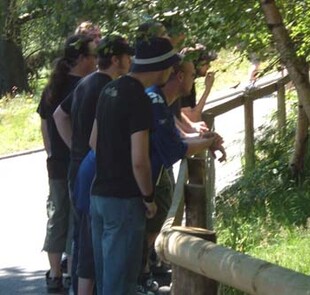 DAY 1 - Thursday 14/7 - London
Tim
The first date for Among the Missing is a home town show. So much so in fact the venue is in Archway at the Archway Tavern, 5 minutes from Craig's house. Although saying this, we have never done a show there before and this is a fairly new venue to the metal and hardcore circuit. First thing that morning I meet Mars (Bumsnogger) who has literally flown in that morning from Thailand for the tour. I meet up with him, smoke cigs, chat and stuff. We head out soon enough to our practise space to collect all our gear and then take it to the venue. We arrived stupidly early, so we hang around outside the venue in the beer garden. Its blisteringly hot so its good to be outside.
After a short while the rest of the Bumsnogger and Among the Missing guys arrive (strangely Craig is last to arrive, despite living 5 minutes walk away). It's good to see them, as I've not seen them since the all dayer in January when the idea of this tour was suggested. We load into the venue to discover it is a fairly large venue with a rather large PA, but has no sound man to work said PA. So we are left with the task of figuring out how to work it ourselves.
The first band on are Dollarhyde and they suffer from no vocals as I struggle with the PA trying to get any sound out at all. The PA is very complicated and I'm really nervous about pushing it too hard cause the owner has been rather moody with us using it at all. Despite all this though, and the lack of a bass player, they battle through and they really rock hard! These guys are slowly becoming a great London hardcore band so keep your eyes peeled for them. They really have a great set of songs, great sound and are proper nice chaps to top it off.
Then we play and again nobody can hear any vocals, I've no idea why the vocals aren't coming through the PA but they just aren't. We play OK, but I get very frustrated at the lack of any sound from the PA, so it isn't a very enjoyable gig for me. Not one of our better shows.
Next up are Bumsnogger, been a while since I've seen them, and as they start up I remember why I was keen to get them to tour with us - they destroy! They blow me away despite the lack of vocals yet again. As I watch I think how great the tour is gonna be seeing such a great band for four nights in a row.
Next up are the Deathskulls from Southend on Sea, who are one of my favourite UK bands! Again a real lack of vocals although we finally managed to get a little bit out of the PA which helps a great deal. They play several new songs and the new stuff is even more rocking than the old stuff! They are a fantastic band and I can't say enough great things about them. I really can't wait to hear their debut full length.
After the show, we load away and leave for Craig's house where the 'snogger guys and some of the folks from the show stay and drink and sleep over waiting for the next day on the road.
Chris
Set off in the van and hit the M1 and noticed straight away that it was going to be a sweaty weekend, jebus it was hot! Entertained ourselves playing the yellow car game, basically, if you spot a yellow car you can give someone a dead arm. By the time we reached the service station, Mars and CJ (our merch monkey) were bruised and battered.
Finally arrived in London at about 5.30pm and found the venue without getting lost, which is always a bonus. Met up with our partners in crime for the weekend and acquaintances were made. Venue was nice and had plasma screens of what was happening onstage if you were feeling particulary lazy. Unfortunately, there was no soundman, so Tim (ATM) had to make the best of a bad situation.
Dollarhyde opened and they slayed, even without a bassist! Among The Missing were next and were awesome, shame the vocals were lost in the mix. We then played a tight set, which is a miracle for us, as we're usually lost when we can't hear the vocals. Deathskulls finished off with a frantic set, definitely one of the best bands in UK hardcore.
Most of the people stayed at Craig's (ATM) and had to put up with some annoying drunk who ended up getting thrown out. Mars, CJ and Chris slept in the van and got woken up at the crack of dawn by the world's loudest binmen. By this point the van stank.
DAY 2 - Friday 15/7 - Southampton
Tim
Today we head for Southampton, but the first thing we find out is there is no way we can fit all of us plus equipment onto the van. So we decide to take my car with the ATM people in minus Craig who has gone with the van and plus Linds who is coming along for a few of the dates. The car leaves 2 hours or so after the van but they arrive only 10 minutes before us after getting hopelessly lost and stopping for a while at the services. We meet them outside the venue and wander down to my friend Wes's, who is putting us up after the show tonight. Then its off to the waterfront for a beer in ocean village to relax.
First band on tonight are Naked Shit, who are my other band. In fact its just me and my house-mate Linds. We play a good but short set of about 10 minutes tonight and with using Kev's amp I make a good noise. Doing the first set also gets me ready for playing later on. Also already the drinks have started to flow nicely and I'm feeling a little bit razzed!
Next up are our hosts' (Wes and Nick) band Seven Arrows through my Bastard Heart and they rule! Angular hardcore with the feel of early 90s bands such as Heroine and Unwound.
After that the 'snogger boys play even better than they did the night before and the fact you can hear the vocals tonight makes a huge difference. The vocal interplay between Andy and John is amazing to watch and makes me feel like I am going to really have to play well tonight. I feel inspired even.
Its our time to play up next, we start up really well and I can hear my vocals. I have a good feeling about this set. I really get into it and I think we play pretty well tonight, it's a relief after a disappointing set the night before.
After the gig is over we are allowed to leave the gear in the venue, so much drinking and some shocking displays of table football are undertaken. After this me, John and Andy are too drunk to drive our respective vehicles. It's a 20 minute to Wes's house so we think lets walk it. Pat and Kev from my band can't be bothered to walk, so stay in the car. And Mars, Rich and Andy stay in the van.
So the rest of us set out with beers and Mars's vicious rum. It?s a slow walk up to Wes's house and we weave in a drunken fashion stopping for pizza and push Don into a bush. It takes over an hour to walk a mere 20 minutes walk - oops! When we do finally arrive we tuck into the pizza - including me who is (was) vegan. I'm too drunk and hungry and so make an executive decision to be veggie for the rest of the tour not vegan. It is a very tough staying vegan on the road there is so little you can eat and you have to be organized and disciplined - which I'm sadly not.
We also play some drunken board games like guess who 'is he bald??...is he bald??' and some drunken piano playing (Craig, it's fair to say you're not John Lennon!) Then we go to sleep in the one place at least three people have advised us not to sleep - the conservatory. We've been told it gets stupidly hot at 7am. Do we listen? Do we fuck! So we all drift off (as soon as CJ stops talking - he he!). Then we wake up to extreme heat. It's like a greenhous. That will show us drunken fools to actually listen.
Chris
After a hearty fry-up and putting up with some insane old man gibbering next to us in the cafe we hit the road for Southampton. Highlight of leaving London was passing Chiswick roundabout, but we couldn't see Roger Moore (only funny to Alan Partridge fans).
Arrived in Southampton at about 2pm, after getting slightly lost (ie. Chris put the wrong postcode in multimap) and ending up in some industrial estate. Set off on a mission to find the sea, but after walking to a Marina we got bored and found a pub instead and started drinking. Got back to the venue at teatime and loaded in, then got fed by the lovely chaps from Seven Arrows In Your Bastard Heart. Some old nutter joined us in the beer garden and was muttering about parole hearings, why do we always attract the weirdos?
Naked Shit opened, which is Tim and Linds (friend of ATM along for the journey) drone band a la Burning Witch and all that. Seven Arrows followed with a chaotic yet still melodic set. We followed, by which time, the small room had turned into a sauna. ATM closed the evening with another fine set. Such a pleasure to be sharing a tour with a great band!
As the pub was open until 1am we carried on drinking, the barman was astounded, as he'd never sold so much gin in one evening, even if he did call it a girl's drink. Chris and Podge destroyed CJ and Don (ATM guitarist) at table football, the final score was about 8 games to nil. Richard destroyed himself with cider and gin and wandered off on a mission to find a kebab.
Half the band slept in the van, while the rest of us trudged to Wes' place. More drinking ensued, and their kitchen had loads of board games, so we played Guess Who (Chris excelled himself asking the same question twice in a row) and Craig got drunkenly frustrated with Screwball Scramble. Despite being told several times not to sleep in the conservatory cause it gets really hot, you guessed it, we all slept in the conservatory. Craig serenaded us to sleep with a beautiful rendition of "Imagine" on the out-of-tune piano.
DAY 3 - Saturday 16/7 - Bournemouth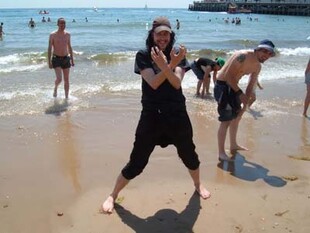 Tim
We all walk back to the van and meet the others (realising it does actually only take 20 minutes when you're not hammered). We grab some food and wait to get the gear from the venue when its open. We try to start the van up but to our dismay the battery seems to be flat. We try to bump start it with all of us pushing it- but alas no joy! So we call the RAC out and wait. After about an hour and much milling about, the chap from the RAC arrives and gets the van started which is a real relief.
We go grab the gear and get moaned at by the landlord for some reason - moaning you've not got the stuff yet... I need that room by 12 (we're gone way before 12!) Also I sell a record to a chap outside the venue who is practising after we've moved our gear. He has no idea what we sound like but bless him for buying it and supporting us scruffy tikes!
We head then to Bournemouth, which hardly takes anytime at all, which is good. We have a touch of trouble parking, as it's a beautifully sunny day and everybody has decided to go the beach. But as soon as we are parked, we head straight to the beach and see lots of very nice looking ladies in bikinis along with a fat kid covering himself in sand. We paddle in the sea, do necro poses for the pictures being taken and some of us have their eyes popping out their heads at the ladies on the beach (I shan't name the main offenders though... he he!).
We then split into groups again, with me, Andy and John heading back to the van to get it re-parked, where we meet Perry and Jeff from Sunshine Republic who have sorted tonight's show out and are also playing on the bill. The rest of the guys head to the arcade, then onto the pub where we all meet up again. After getting some food and a quick drink we head to the venue.
The venue itself is in the top room of what seems to be a village pub/hotel. But it's very large and professional looking with a large stage and monitors. The first band play and I can't for the life of me remember their name. They are ok but not mind blowing. They seem to be a new band and are decent enough, so I guess they are still growing into their sound.
Next up is us, we play ok, but both me and Pat especially are suffering from the heat in the venue (the day spent in the sunshine can't have been that helpful either). We don't play too badly though, with the only moment in the set I could have done without was hitting the floor with no shirt on and rolling in glass - but hey that's me, I lose it sometimes and have my Iggy moments.
Next up are Sunshine Republic, who are an amazing band, who I've been impressed with every time I've seen them. It's a pleasure to watch them as they bury their heads in their cabs as ever and backs to the audience (some would say this is rude - but I find it a very charming way of presenting their music). The singer seems to be yelling from miles away from the mic, but it adds to the intensity of the their epic soundscape. Because the show is running late tonight though they sadly only get to play one song, as their songs are 15-20 minutes long each.
This also leaves Bumsnogger to rush to set up and with very little time to play. As they dash through their set though they are still amazing like the night before and as this tour goes on I'm enjoying the material more and more as it becomes familiar to me.
After the show we pack the gear up and head up the road for 45 minutes to Whitcombe, just south of Dorchester where my parents live (I have told them all to be on their best behaviour - ha ha). As everybody files in to my folks house one by one, my parents look bewildered with 13 people coming through the door. But my mum is very organised and has set up bedding for us all and is readily prepared for us all. Also she is kinda shocked when we manage to fit all 13 of us in, no trouble.
Chris
Those of us who slept in the conservatory woke up sweating like a paedo on sports day, it was like a greenhouse, Wes wasn't joking! Walked back to the van to find the battery had died. Tried bumping, but no joy, so had to get the RAC out. The kind man from the RAC fixed the van and then we hit the road.
Arrived in Bournemouth and noticed 2 of the greatest things:
1. The amount of hot women walking about wearing next to nothing
2. The taxis were yellow, which made the yellow car game even better
We all met up on the beach and got our white pasty flesh out and scared all and sundry, we must have been quite a sight! We met up with a couple of the chaps from Sunshine Republic and wasted a small fortune in the arcades playing air hockey, driving games and the 2p machines, then found a nice pub to sit out the front of and sample some cider. Then we made our way over to the venue and compared our t-shirt suntans and severe sunburn.
Venue had a nice stage with a great PA, so was cool to hear things properly and not the usual wall of noise. The only downer was the room was like an oven, but hey, nothing a few drinks won't solve. The Olmec Diagram opened with a great mathy and aggressive set, boy, was the PA loud. Sunshine Republic followed with an epic sludge-a-thon. While ATM set up, we retreated to the van and polished off a whole bottle of Thai rum. By now, the venue was hotter than the sun!! ATM were fantastic and then we drunkenly ended off the evening. Spent the night at Tim's parents' quaint country cottage which was very odd, compared to the usual floors and vans.
DAY 4 - Sunday 17/7 - Bristol
Tim
We wake up in the cottage in the middle of nowhere (it seems) with fields all around. Having slept so well, we next queue up for a shower, while my Mum has amazingly sorted a nice cooked breakfast for all of us! We eat our breakfast on the lawn outside - in fact 'Necro breakfast' in the countryside! We eat up and chill in the nice surroundings and prepare for our day ahead.
We set out at a reasonable hour to Monkey World - a large enclosure in the Dorset countryside with loads of different monkeys! We wander round looking at all the monkeys having a great time. We see Afur who gets done by another monkey (it's very quick and we all shout Don in 60 seconds!) and I see a Macaque called Tim... he too has a podgy belly and hangover eyes. It's an amazing place and we have a great time seeing all the monkeys. We hit the shop and merch up including a monkey mask for some necro monkey photos. Next we drop Linds off at my folks as she has to get back to London tonight, then its onto Bristol for us.
We arrive in Bristol and get very lost, cause Don couldn't hear the directions properly due to a bad phone line on the mobile. But its sorted after a bit and we arrive safely at Nick MFKZT's house. Where we see the 'snogger guys and Nick's girlfriend Emily has very kindly prepared us a lovely vegan curry which goes down a treat. I must say at this point we have been so well fed and treated this tour its been amazing because of it. The good mood is sadly dented when we hit the van. It won't start again! Shit! We load the gear into cars. Luckily both Rob and Nick have cars too. We drive some of the gear there. By the time we arrive back the RAC man has come to rescue the guys. He tells us a van of this age and milage shouldn't be hired - ah! Great! Anyway he sorts out the van and leaves. So we get the stuff into the venue which is luckily only just down the road.
First on tonight are MFKZT and as ever these boys are rocking. We are doing a split with them and it's an honour. Three lads and a drum machine playing brutal grindcore! So good and tonight is no exception! They rock really hard. The only real shame is there are so few people in the venue as we find out the show hasn't been advertised very well and the local free festival is also on. But we don't let that worry us too much as we have enough of us through out the bands to make it a good last night on the road.
Next up are the Bumsnogger - rocking as they have done every night. And Andy is on quality form tonight especially. They provide one hell of a set yet again - I'm gonna miss not seeing 'em play again tomorrow. We are headlining tonight as we've been taking it in turns over this tour. We play a pretty short and thrashy set, and despite the lack of people I really get into it and we all play really well. We get Andy up on Useless Bunch of Knucklefuckers. When we do the last song, even young CJ the merch monkey takes the mic and shows he can scream as good as the rest of us.
After the show we pack down, say our goodbyes and head our separate ways. Driving back to London we reflect on what a great tour its been and how ace Bumsnogger are as both people and a band. We really couldn't have chosen a better band to tour with. Also, how nice people have been to us on this tour making it feel like a holiday than a tour. So I'd just like to say thanks to everybody who put us on a show, put us up, fed us, came to the shows and most of all Bumsnogger for being top blokes! See you guys again real soon!
Chris
After a hearty breakfast and an hour relaxing in the garden at Tim's parents, we had a slight detour to make before we set off for Bristol.
Monkey World. It was fantastic, all manner of apes fighting and ermm, playing with each other. A great way to kill some time and definitely one of the highlights of the tour. I think a few of the monkeys thought Mars was a close relative, espescially when he remarked that one chimp reminded him of someone he went to school with.
Set off for Bristol and what looked like a good dual-carriageway on the map turns out to be full of bends and steep hills. Our poor van was reduced to 1st gear and 10mph at some points and it wasn't looking good, but we finally made it to Bristol at 5pm. Heading to Nick (MFKZT) and Emily's place and they cooked us a lovely curry, finished off with fruit trifle and ice cream (very rock n' roll!)
The van died yet again and the RAC came out, but we managed to load the gear in time. The venue was a small pub with a small stage facing the bar, very cramped, sweaty and with some lovely toilets. MFKZT kicked off with their grinding spectacular. We went on next and played a fast set and ATM followed up with an eventful set, Don's amp fried, Andy and CJ joined in on guest vox too. Richard and Mars got a flagon of some local scrumpy too, the nutters!
We were all zombified at this point, so we loaded up and hit the road. Dropped ATM and the gear in London and then crawled up the M1 and finally got to bed at 5am. Back to the real world and work for a few days before Friday's grand finale.
Chris again - Nottingham 22/7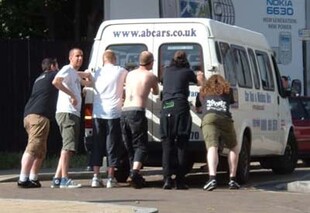 Home, the Old Angel.
Dead On Arrival kicked off to a packed room with an amazingly heavy set and no sign of trouble since their previous outing on this stage (massive riot, police were called). Sanzen followed with their take on abrasive bands such as Everytime I Die and they were brutal!! Great to see loads of people in attendance for upcoming Nottingham bands too and the atmosphere was ace. ATM were up next, and it was ace to see them play to a busy room. Tim was bouncing off the walls (literally) and jagermeister was forced down their throats. We ended the evening to what looked like a sea of bodies. A healthy mosh and stage-diving accompanied our drunken set and it was lapped up, we even sold all our merch!!
A fitting end to a fantastic 5 days with Among The Missing, a great bunch of lads, and it was a pleasure to share seven inches of vinyl and a tour with them. Roll on the Northen leg (Snog The Mong).
Links:
Credits:
All these pictures and more can be found here along with your limited edition tour seven inches!