Despite the ever-present Orange Goblin and Cathedral, the underground rock sound that started with Sabbath has declined in the land of its birth in recent years, at the hands of insipid indie-rock at one end and the rise of sludge at the other. Thankfully, Josiah prove an exception to this rule.
We started our interview with Mat, predictably enough, by asking him to introduce the band to you, our gentle readers..
Hello to the people of Ninehertz! We are Mat Bethancourt (vox/guitar), Sie Beasley (bass/vox) and Keith Beacom (drums) known collectively as Josiah. As for the choosing the name, we just wanted something a little different from our peers to be and went for the Biblical angle to contradict our Satanic tendancies. Our love for groups such as Josefus and Uriah Heep may have helped too.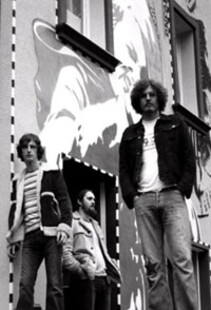 Although Josiah have been constantly active since they formed in 2000, it has been their new album, 'Into the Outside', released late last year, that has really got tongues wagging in underground rock circles, with the band's own label, Molten Records, hailing it as a evolution in Josiah's sound.
'Into The Outside' has gone down a treat with critics and listeners alike. We've been really pleased with the overall response to the new record and it's sold more in its first three months than the debut album managed in a year. I think we moved on from the sludge riff jams of our early recordings and tried to deliver some good rockin' songs for people to get a hold of. Working at Dave Anderson's place in Wales was an inspiration and his stories about Hawkwind and Amon Duul were great. We're not ashamed of our retro sound and Foel (the studio) got us closer to our musical vision. It is what it is and the more people who come to know the sound of Josiah the better.
Your song, 'Malpaso' was featured in the recent Welsh film, 'A Way of Life'. How did that come about? Have you seen a growth of interest in the band as a result of the film?
That was due to our publisher and we're still yet to see the film. As for creating interest in the group, I don't know. I guess it must have helped and it''s good for the bio.
We moved on from recordings to ask about the band's frequent European tours, and, in particular, their appearance at this year's Roadburn festival in April.
Yeah! Roadburn's going to be a riot, looking forward to that one. Walter at Roadburn has been a fan since the release of the 'Out Of The First Rays' 10" EP in 2001 and he was keen for us to take part in the festival. Our tour of Germany and Switzerland in September 2004 with On Trial (our Molten label mates) helped open up our audience and European venues treat you with respect. UK gigs are often soul destroying rip offs. We just stick to well-trusted promoters and cool bands in the UK, playing as little as possible. Josiah sell most of our records in Europe and we hope to be on tour there again for three weeks this September.
So what UK bands excite you at the moment?
I love Broadcast, they are something special and there's Black Moses, Gorilla, Macrocosmica. I think the UK scene has stalled lately and too many young bands are getting caught up in the dream of conformity that is Kasabian, Franz Ferdinand etc. Do Me Bad Things sound interesting and I like their Queens/Darkness vibe but it's just a little too Rocky Horror for my liking. If Winnebago Deal is the best the UK underground rock scene has got to offer then we're up shit creek.
What music do you listen to now?
I just got hold of the Parchman Farm CD EP from San Francisco and have the most amazing female guitarist who just blows me away every time I listen. They do a heavy, west coast, blue cheer, early Alice Cooper type of sound. Also been listening to some Japanese stuff like Flied Egg and Blues Creation, heavy prog rock psych blues.
Let's face it! All of the bands of the desert/stoner/garage/whatever scene are totally under the influence of some amazing music created between '66 and '76. You listen, you thieve and you hopefully get your own thing going on. It's nothing new, it's about having a good time and leaving something behind you to help keep the rock rollin'.
'Into the Outside' is available from Molten Records along with other Josiah releases. As usual, keep checking ninehertz for those European tour dates. UK based readers seeking the Josiah live experience will just have to keep our fingers crossed that they find a well-trusted promoter in a town near us soon.
Links:
ninehertz album review - Into the Outside
Credits:
All artwork and photographs from the Josiah site